WHO: Big SARS outbreak unlikely
( 2004-01-10 00:20) (China Daily by Zhang Feng)
The World Health Organization (WHO) China office said Friday that the second suspected SARS (severe acute respiratory syndrome) case reported in south China's Guangdong Province should be taken seriously, and further laboratory tests should be performed.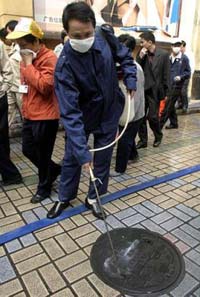 A city worker sprays chemicals into a manhole as part of a campaign to exterminate pests such as rats and roaches at a market in Guangzhou, Southern China, Thursday, Jan. 8, 2004. [AP Photo]
"Working from the incomplete data we have, it seems to us that there is sufficient evidence to indicate that further laboratory tests should be performed, and that this case should be taken seriously," the WHO China office said in a press release Friday night.
A 20-year-old waitress in a local restaurant was diagnosed as a suspected SARS case on Wednesday evening, and has is now being treated at Guangzhou Municipal No 8 People's Hospital.
Her situation is now stabilized and she has had no fever symptoms for nearly 10 days, Tang Xiaoping, head of the hospital, said yesterday. All the 100 people that had contact with him have shown no SARS symptoms.
"We still do not have full data (about the results of the tests conducted on the suspect SARS patient), but have requested it," said the WHO office.
The office said that it has recommended that a full set of samples from the patient be sent to China's national reference laboratories in Beijing, and,simultaneously, another setbe sent to one of WHO's International SARS Reference Laboratory Network facilities, according to the press release.
"As with all SARS-related testing, we must ensure throughout the testing process that contamination of the samples used in the PCR tests is excluded, and that any positive findings from the antibody tests have not been the result of cross-reaction with other corona viruses," said the WHO China office.
As for the possible public panic over a big SARS outbreak in Guangzhou, the office said that it didn't see a significant public health threat from SARS. "While the WHO does not want to downplay the seriousness of the situation in Guangzhou or Guangdong Province or the rest of China, we hasten to point out that so far there has only been one confirmed case and one suspected case of SARS this time in a nation of more than 1.3 billion people," it said.
The office added that experience last year showed that the SARS epidemic can be contained and controlled if cases are quickly identified and isolated, and if proper infection control measures are maintained in hospitals.
"China's health care system, and much of the rest of the world's, is on high alert to identify people with SARS-like illnesses. The WHO and China will continue to closely monitor the situation in Guangdong and across the country. But for now, we do not see a significant public health threat from SARS," the office said.
The WHO also gave a high affirmation of Guangdong's handling of the situation: "Guangdong has done a good job in dealing with these cases epidemiologically, and is to be commended for the conscientiousness with which they are dealing with the situation."
WHO seeks SARS origin
A 10-member team comprised of Chinese health authorities and the World Health Organization (WHO) experts have started a week-long effort to discover the source of SARS in Guangzhou yesterday.
They will seek potential sources in humans, animals and the environment to try to link the disease to one confirmed SARS patient who has already been discharged from a hospital, as well as to a newly suspected case.
"It's the best time for seeking the origin,'' said Xu Ruiheng, deputy director with the Guangdong Provincial Centre for Disease Control and Prevention.
The news comes as test results in Hong Kong disclosed that three crew members of the Hong Kong Television Broadcasts Ltd do not have SARS, a spokeswoman for the Hospital Authority of the Hong Kong government said on Friday.
The television news crew had upper respiratory infections, including fever, sore throat and phlegm when they were admitted to isolation wards of Queen Mary Hospital Tuesday. They had started feeling unwell on December 30 after visiting a Guangdong hospital and markets selling wildlife.
In Guangdong, WHO officials are asking authorities for more information about the young woman suspected of having SARS.
"We need more information about the tests they used and the results those tests generated before we can comment further," said Bob Dietz, a spokesman of WHO Beijing Office.
All the estimated 100 contacts of the woman are under medical observation and have shown no SARS symptoms, said Mao Qun'an, spokesman of the Ministry of Health.
Guandong Government officials have launched a province-wide civet culling campaign, since the species from the cat family is suspected of carrying the virus that may cause SARS.
Any person involving the practice of capturing, transporting, selling and eating the masked palm civets, which is a main suspected source, is subject to a fine ranging from 10,000 yuan (US$1,204) to 100,000 yuan (US$12,040).
Top officials of the city also have encouraged residents to take measures to exterminate mice and cockroaches throughout the city.
Some 45 tons of poison used to kill rodents was employed in the Haizhu district yesterday, mainly at street corners and in houses.
More than 100 dead rodent collection stations were set up in the district.
Experts are working to collect samples where the woman who may be infected worked.
It used to do a thriving business in the sale of food from wild animals, including the masked palm civet and snake meat.
It has been closed and a board on its door reads: "business suspended, being decorated,'' while other restaurants nearby go on as usual.
However, all restaurants have been urged to stop selling wild animal meat.
The Guangdong Provincial Bureau of Forestry has suspended licences related to any businesses that work with wild animals.
The country now is keeping a high alert level on monitoring and preventing the possible occurrence of SARS at the time when more than 90 million migrants are rushing for their hometowns for the Spring Festival which begins on January 22.
In Guangdong, passengers at railway stations, airports and bus stations, are required to receive infrared temperature checks and fill out health registration forms.
Passengers by train are required to arrive at the station six hours ahead of their boarding times for temperature checking.