US military deaths in Iraq approach 500
( 2004-01-09 16:21) (Agencies)
The number of American troops who have died in Iraq since the war began last March is nearing 500, more than U.S. losses in many regional conflicts of the past several decades: the Gulf War, Lebanon, Somalia, Panama, Grenada, Kosovo and Afghanistan.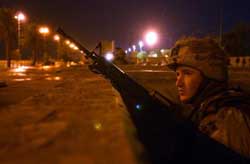 A U.S Army soldier takes his position during a night raid, in Tikrit, Iraq, early Friday, Jan. 9, 2004. U.S. forces arrested 13 Iraqis wanted in connection with planning funding and conducting attacks on coalition forces. [AP]

So far the Iraq conflict has cost the lives of 494 American service members, including nine who were killed Thursday in the crash of a Black Hawk medivac helicopter believed shot down near Fallujah. Most of the deaths ! both combat and non-combat ! have occurred since U.S. President Bush declared an end to major fighting on May 1.

Already, the loss of American life in Iraq has surpassed the U.S. death toll of the first Gulf War of 1991, when about 315 Americans died in the operation to drive Saddam Hussein's forces from Kuwait. That figure includes combat and non-combat deaths suffered during the military buildup and the war itself.

Ninety-nine American forces have been killed in the ongoing operation in Afghanistan, less than a third of them by hostile fire.

The number of American battle deaths since the Iraq war began on March 20 ! at least 333 ! is approaching the figure of 385 Americans killed in action during the Spanish-American War of 1898-1899.

U.S. officials dismiss most of the attacks by Iraqi insurgents as militarily insignificant, and the Bush administration strongly defends the U.S. role in Iraq. Bush said during a visit to London in November that the failure to build democracy in Iraq "would throw its people back into misery and turn that country over to terrorists who wish to destroy us."

Iraq casualty figures are small compared with the horrific bloodletting of some of America's past conflicts. About 19,000 American soldiers died in one month alone in the Battle of the Bulge in World War II, a conflict in which more than 290,000 soldiers, sailors, airmen and Marines were killed in action.

An estimated 620,000 Americans ! both northerners and southerners ! died in the Civil War, America's bloodiest conflict. More than 58,000 U.S. troops lost their lives in Vietnam, both in combat and from non-battle causes.

Nevertheless, the rising death toll after 10 months of military operations in Iraq is significant, especially in a country whose public traditionally has little appetite for their sons and daughters dying in battle in distant, unfamiliar lands.

The United States aborted its participation in an international peacekeeping operation in Somalia after 18 U.S. troops were killed in a battle in the capital, Mogadishu, with forces loyal to warlord Mohamed Farah Aidid.

Former U.S. President Ronald Reagan pulled U.S. peacekeepers out of Lebanon after a suicide truck bomber killed 241 Marines and other service members at Beirut's airport in 1983.

After U.S. involvement in the Vietnam War ended in 1973, U.S. presidents were loathe to commit American forces to protracted struggles in foreign lands without clear objectives and overwhelming chances for success.

However, U.S. antipathy to foreign military operations receded after a series of quick and relatively painless operations in places like Grenada in 1983 ! with only 16 battle and non-combat deaths ! and Panama in 1989, when 21 troops were killed.

The Gulf War introduced the public to precision, high-tech weaponry that could strike distant targets seemingly without significant risks to the pilots who fired them from thousands of yards away.

To a generation reared without memories of the close-quarter savagery of Vietnam, Korea and other distant battlefields of half-forgotten conflicts, war appeared to have been sanitized to a life-and-death computer game where the winner had the best gadgets.

In the Kosovo campaign of 1999, the United States and its NATO allies pounded Yugoslavia into submission with an aerial bombardment in which America lost not a single service member.

Afghanistan's Taliban rulers and their al-Qaeda allies collapsed after about a month of fighting, with the Americans delivering precision bombs from the sky while their northern alliance Afghan allies did most of the ground fighting.

But the Iraq conflict has proven to be a different kind of war. Since the end of major combat, most American casualties have come from low-tech weaponry ! roadside bombs, mortars and small arms fire.