Murder-kidnap suspect caught, abducted girls safe
( 2004-01-09 15:36) (Agencies)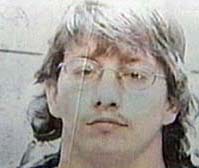 Jerry Jones

A man who was the object of a regionwide manhunt after three adults and a 10-month-old baby were found slain in Georgia, United States, was in custody in critical condition after he shot himself Thursday evening (local time) in Tennessee, authorities said.

Jerry William Jones fled with three girls, two of them his daughters. They were found safe late Thursday. The suspect shot himself following a police chase, a family member said.

Most Southeastern US states had issued a so-called "Amber alert" seeking Jones, 31, who authorities said kidnapped the girls. John Bankhead, a spokesman for the Georgia Bureau of Investigation, told MSNBC-TV that all three girls were all found alive with Jones and were unharmed.

Jones was hospitalized after the suicide attempt on Interstate 75 near the Tennessee line, said his former brother-in-law, David O¡¯Donnell.

Jones was flown by medical helicopter to Erlanger Hospital in Chattanooga, Tenn., Bankhead said, where he was in "very critical condition."

3 adults, child slain in Georgia

Jones is the father of two of the kidnapped girls and former stepfather of the third. The girls, Brittany Phelps, 10, Brandy Jones, 4, and Tammy Jones, 3, were last seen Wednesday at one of the homes at the murder scene in Ranger, 55 miles north of Atlanta.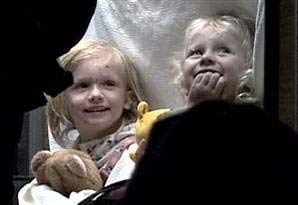 Two of the girls were photographed, safe and sound, Thursday evening (local time). [WRCB]
The Gordon County, Ga., sheriff's office said an arrest warrant on suspicion of murder was issued for Jones after the four bodies were found Thursday morning in two homes. Clent Harris, a sheriff's spokesman, said the motive appeared to be jealousy that his ex-wife, the children¡¯s mother, was visiting her new boyfriend.
At a news conference in Ranger, authorities said the woman, Melissa Peeler, was in Oregon when she called police to say Jones had telephoned her after killing her parents, a sister and the couple¡¯s 10-month-old daughter and threatened to kill the abducted children ¡°one by one¡± if she called the police.
The murder scenes at the two homes showed that the killer was "very methodical," said Bankhead said. "This wasn't quick. He clearly took his time," he said.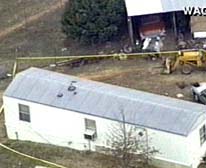 Site of the killings outside Ranger, Georgia. [AP Photo]

Gruesome murder scenes

Gordon County Sheriff Jerry Davis said that Jones' former father-in-law and mother-in-law, Tom and Nola Blaylock, were found dead in one home. The bodies of one of the Blaylocks' daughters, Georgia Bradley, and Jones' infant daughter, Harley, were found in a second residence nearby. Davis said that the adults suffered multiple gunshot wounds and that the infant appeared to have been strangled.
Authorities said Jones fled in a maroon or red 1991 Ford Explorer with a Georgia license plate 730 YFV. They said the vehicle belonged to one of the victims.
Bankhead told MSNBC's Natalie Allen that police acting on a tip pursued Jones north on Interstate 75 into Tennessee, where he took the first exit. He crashed sometime after exiting toward East Ridge, where he shot himself.
Jones was known to authorities, having been in the county jail before for small-time crimes, Davis said at a news conference in Ranger earlier Thursday afternoon.
"I've had him in the north county jail for traffic violations," he said. "I need him back in the jail for murder. ... The way that he's treated these people, I want him bad."
Two deputies visited the residences Wednesday morning at the request of Peeler, who phoned home from Oregon to request a "welfare check," but they noticed nothing amiss, Davis said.
After Peeler received the threatening phone call from Jones, deputies returned to the scene and entered the homes, where they found the bodies, David said. He said the killer had cleaned the murder scene so that the carnage was not visible from outside.
'A crazy person'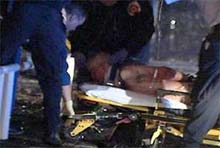 Jerry William Jones being wheeled on a stretcher to an ambulance Thursday after his suicide attempt. [WRCB]

Peeler's brother-in-law David O'Donnell said Peeler's parents and sister were caring for the children at the time of the slayings while she was in Oregon with her boyfriend.

O'Donnell said that Jones was constantly threatening violence and that Peeler had been trying to get away from him.

He described Jones as "a crazy person" and said Jones shot one of his horses five years ago after an argument. "He says all the time, he'll kill you, he'll kill me or whoever," O'Donnell said.

O'Donnell said he thought Jones would head for Florida, where his brother lives. O'Donnell said Jones often went to his brother for "security and money."

Jones' mother and stepfather were killed in the 1996 ValuJet crash in the Florida Everglades, and O'Donnell said Jones got a substantial settlement.

"He blew the money almost as fast as he got it, mostly on drugs," O'Donnell said.