Bush to seek manned flights to moon, Mars
( 2004-01-09 15:16) (Cnn.com)
U.S. President Bush plans a major policy speech next week in which he'll promote a new space initiative, senior administration officials said Thursday.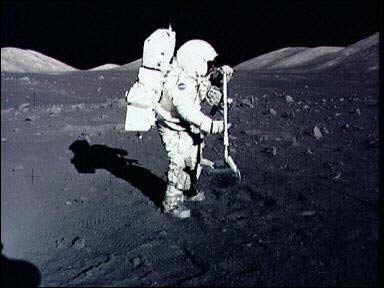 Astronaut Harrison Schmitt collects rock samples on the lunar surface during the Apollo 17 mission, the last manned mission to the Moon in 1972. U.S. President George W. Bush could make a major announcement about the U.S. space program next week, amid reports he could propose a new manned mission to the Moon and eventually to Mars.
Bush will lay out his "vision for expanding the space program," which is expected to include long-term moves for manned missions to the moon and an eventual manned mission to Mars, an official said. NASA's target for a moon mission is 2018.
The speech will come just a couple of weeks before the anniversary of the breakup of the space shuttle Columbia as it returned to Earth last February 1. All seven astronauts aboard were killed.
The official declined to say where or when Bush will give the speech, but it will likely be after he returns from a summit in Mexico, possibly as early as Wednesday.
White House spokesman Scott McClellan, traveling with the president in Florida, confirmed the announcement will take place next week, and said it would be an outgrowth of a review of the space program that began after the shuttle disaster.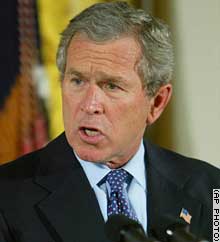 A return to the moon and a manned Mars mission are expected to be part of Bush's space initiative. [cnn.com]

He declined to give further details.

Some of the things that had been under consideration were a proposal for a permanent presence on the moon, setting a target for retiring the shuttle fleet, and a plan to phase out the international space station.

An administration official said the president is not expected to immediately discuss the potential cost of his new space vision.

The announcement would come more than 31 years after the last moon mission. The last moon flight was December 1972 and some in Congress have argued that it's time to go back.

Last month, administration sources told CNN that NASA was urgently debating and refining the proposals. A senior administration official said Vice President Dick Cheney had initial consultations with key members of Congress on the possibility of a revamped and expanded American space program.

The Bush administration review also includes choosing a new space vehicle for manned flights.

The president had planned to deliver a speech to mark the 100th anniversary last month of the Wright brothers' first manned airplane flight, but the initiative was not ready.

After the Columbia disaster, the president quickly committed to resuming shuttle flights. The current NASA target is fall of 2004.