Three girls missing as 4 bodies found
( 2004-01-09 08:56) (Agencies)
Atlanta -- Georgia authorities called in the FBI Thursday to aid their search for a man charged with killing four people, including his 10-month-old daughter, and abducting two other daughters and another girl.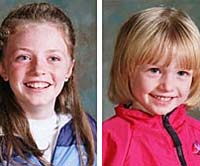 Brittany Phelps (left) and Brandy Jones [AP Photo]

Gordon County Sheriff Jerry Davis said Jerry William Jones is charged with killing the parents and sister of his estranged common-law wife along with the infant daughter.

Jones then called his wife to tell her about the killings and warned her he would hurt the surviving girls if she reported the crimes, Davis said.

"I've had him in the Gordon County jail for traffic violations," the sheriff said. "I need him back in the jail for murder. The way he's treated these people, I want him bad."

Authorities put out an Amber Alert for the three girls and issued an arrest warrant for Jones, 31, after discovering the bodies of his daughter, her grandparents and her aunt late Wednesday. Their whereabouts remained unknown Thursday afternoon, Georgia Bureau of Investigation Director Vernon Keenan said.

Jones is considered armed and extremely dangerous. The FBI is seeking a nationwide fugitive warrant for him, and Georgia officials have asked neighboring states to post Amber Alerts in hopes of finding the girls alive, he said.

"We have no information to point to any specific location where Jones and the children may be," Keenan said. "We do not know if they are in Gordon County. We do not know if they are in Georgia. We do not know if they are in a surrounding state."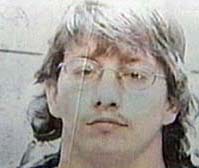 Jerry Jones

Authorities and relatives identified the dead as Jerry Georgia Jones, age 10 months; her grandparents, Tommy and Nola Blaylock, and their daughter, Georgia Bradley. Keenan described the crime scene as "very violent."

"Several of the victims have suffered multiple gunshot wounds, and the infant appears to have been strangled," he said.

Davis said Jones' wife called the Gordon County Sheriff's Department at about 3:30 p.m. Wednesday to report that Jones had told her he had killed her family. When deputies first went to the home, they looked in through the windows and saw nothing amiss, he said.

Deputies went to the home after a second call at about 11 p.m., he said.

"The lady explained to us that he had done harm to her mother and daddy," Davis said. "A senior officer took it on his own to enter the home, and when he entered the home that's when we found the bodies."

Keenan said Jones appeared to have taken time after the killings to clean the crime scene and hide the bodies. And deputies were unable to issue an Amber Alert until shortly after 8 a.m. Thursday because they did not know what kind of car Jones was driving, Davis said.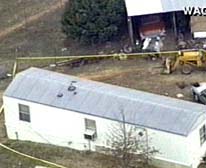 Site of the killings outside Ranger, Georgia. [AP Photo]

"It took several hours to determine what type of vehicle was missing from the residence and to determine the tag number," he said.

Jones was described as being about 5-foot-7 and 150 pounds, with brown hair and blue eyes. He is believed to be driving a red or maroon 1991 Ford Explorer Eddie Bauer model with a Georgia license plate. He took the SUV from one of the slain relatives, investigators said.

The abducted children were identified as 10-year-old Brittney Phelps, 4-year-old Brandy Jones and 3-year-old Tammy Jones.

GBI spokesman John Bankhead said the younger girls are Jones' daughters, and the 10-year-old is Jones' estranged wife's daughter from a previous marriage.

FBI Special Agent Kevin Perkins said the bureau will provide resources and logistical support to a task force with Georgia agencies, "so that we will be able provide information resources, backbone and command structure."

David O'Donnell, who identified himself as Jones' brother-in-law, said Jones could be headed for south Florida, where he has relatives. He said Jones' relationship with the missing girls' mother collapsed over Christmas, and Jones had threatened to start killing people if she left him.

Another relative, who asked not to be identified, said Jones would occasionally visit family in Florida when he was angry about something and wanted to get away. And a source close to the family told CNN that Jones has threatened relatives repeatedly in the past.

The source called Jones "crazy, unpredictable and threatening."