Charity craves corporate cover
( 2004-01-08 23:58) (China Daily by Raymond Zhou)
At a charity banquet held at a posh Beijing hotel in early autumn, the food was simple and the guests were dressed elegantly. Representatives from multinational firms like Nokia mingled in the crowd -- and not a single soul from a Chinese enterprise was in sight.
This was not an exclusive event for foreign business people. According to the organizer, many domestic companies were invited but none showed any interest. They said they did not have a budget for such a do. Others questioned: Since this is for charity, why do you lavish money on a five-star hotel?
The organizer explained that the hotel provided the service gratis, and a ticket cost only 600 yuan (US$72).
So why the reluctance of domestic companies when it comes to charity?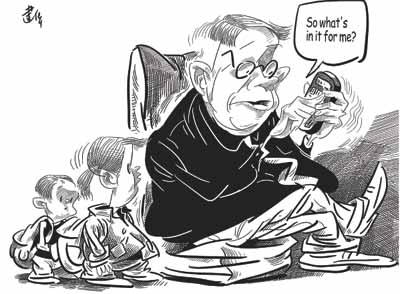 Some experts analyze that the Chinese business community has a long way to go before catching up with international norms for charity. There are some cultural differences, but, primarily, business leaders in China have not shifted from the habit of high-profile, publicity-seeking acts of magnanimity to regular or systematic ways of philanthropy.
Six hundred yuan is nothing to them, sociologists said, but they probably figure that they could not extract any hype from it. No photo opportunities with high officials or movie stars. No television cameras to record and flaunt it. Therefore, no value to boost the image of either the individual or the company.
Li Xiaohua, chairman of Huada Investment Group, is known for his largesse. As a matter of fact, he is listed as the 10th biggest philanthropist from the business community in China by a trade journal. His company's promotional material claims that it has donated 100 million yuan (US$12 million) to various worthy causes -- 1 million of this was reported to have gone to Beijing Chongwen Elementary School. But when 21st Century Business News reporters tried to verify it, they found that it was the annual interest on 1 million yuan that goes to the school.
Baby steps
Dong Huawei, secretary-general of the China Charity Federation, the largest charity organization on the Chinese mainland, was at the above-mentioned dinner. He revealed that 60 per cent of the donations they receive come from foreign nations. The rest are from all parts of China, including Hong Kong, Macao and Taiwan.
Statistics from the Ministry of Civil Affairs show that, by the end of 2002, China had 130,000 social agencies and 1,268 foundations, some of which were involved in poverty relief, environmental protection and legal aid. China Charity Federation put the number of charity groups throughout the nation at above 1,000.
However, compared with the galloping speed of the economy, charitable activities are laggards. In China, social groups used to be part of government agencies; now, they are being spun off into non-governmental organizations (NGOs).
But as Dr Deng Guosheng of Tsinghua University NGO Institute remarks, they have not successfully taken over the baton from the government. In fact, they are more or less caught in a vacuum when official ties to the government are being severed yet the concept of grassroots NGOs has not earned public trust.
In 1998, tax-exempt charity funds totalled US$621.4 billion in the United States, about 9 per cent of that country's GDP. In China, the ratio was less than 0.1 per cent.
In private, business people tend to hold cynical views towards philanthropy. Many see it as self-promotion. "If a business pays all the taxes required by law, that is the biggest contribution it can make towards society at large," said one business owner on condition of anonymity. "What do you think is the point of holding an enlarged cheque with many zeroes on TV while, at the same time, legally or illegally evade tax obligations?"
It would be wrong to infer that Chinese business people are by nature parsimonious. Many give to causes they hold dear and do it without fanfare. Actually, over 50 per cent of business donors insist on withholding their names from public exposure. A telecommunications equipment maker in East China's Zhejiang Province told China Daily that he shuns charities as a publicity stunt. "I want to make sure that my money goes to those who really need and deserve it, not those who would waste it in the bureaucratic pipeline."
The tax factor
The SARS (severe acute respiratory syndrome) epidemic last spring evoked two revelations to the general public: So few businesses chipped in to help with the fight; and the government loosened its grip on tax incentives for charitable giving, albeit temporarily.
Many experts agree that tax is the single most important factor that is curtailing business donations. In many Western countries, charitable handouts to certified non-profit organizations are tax-deductible. That means, if the tax rate is 40 per cent, only 60 per cent of the donated sum is out of the pocket of the business; the rest is from tax money forgone by the government.
In China, the law stipulates that charities are tax-deductible only if they do not exceed 3 per cent of tax payments. Above this demarcation line, donations are basically treated as before-tax proceeds.
The sudden onslaught of SARS made it necessary for generous quantities of business donations. Preferential tax treatment was announced by the Ministry of Finance and the State Administration of Taxation, which amounted to tax exemption for the value of the donated goods. It ended when the virus receded into memory.
Why don't Chinese tax authorities study the Western model and amend tax laws to stimulate business gifts? That would surely give business leaders more motivation to find outlets for their innate altruism. But it would also create loopholes for deception, said Tong Xiaoping, a Guangzhou-based sociologist.
"A common method of abusing the philanthropic spirit is to give away unwanted stock at inflated prices. Stuff that's stuck on shelves would be presented as gifts and recorded at the highest possible price, often several times higher than their actual market value, and then used to write off tax liabilities. That is something that will happen if we have tax incentives but no checks-and-balance mechanisms," Tong told China Daily.
Philanthropy is a three-horse chariot that has to be co-ordinated and run in tandem. Business has to refrain from seeing it as a promotional expense; charities have to maintain a high standard of professionalism and cut down bureaucracy and waste; and government needs to revise regulations to reflect the changing times. Otherwise, some business executives would rather squander their money on pomp and circumstance rather than offer it to someone less fortunate but desperately in need of it.
The most generous people in China
A survey by Scientific Investment, a trade journal, has revealed some of the leading philanthropic business people in China. The tally includes data only for the 2001-02 period, and often mentions lump sums that go back several years.
1. Wang Jianlin, chairman and president of Dalian-based Wanda Group
Total donations: 10 million yuan (US$1.2 million)
The real-estate developer is estimated to generate sales revenues of 7 billion yuan each year. Wanda's donations go primarily to education. It has built a dozen Hope schools and invested 800 million yuan in Dalian University. The company also helped foot the 20-million-yuan bill for a local sports stadium.
2. Xue Yongxin, chairman of Enwei Group
Total donations: 10 million yuan
Enwei started as a small village operation 14 years ago, and grew into a pharmaceutical giant. Donations from 1989 have totalled 170 million yuan, including 32 million worth of drugs for flood fighters in 1998.
3. Li Haicang, chairman of Shanxi-based Haixin Steel Group
Total donations: 8 million yuan
Li, who was killed in early 2003 in his office, created a steel manufacturing base that is the second largest in the province and ranked among the top 20 in the country. His charities went mostly to poverty relief, which totalled 46 million yuan since 1990.
4. Nan Cunhui, chairman of Chint Group
Total donations: 6 million yuan
The Zhejiang-based electric appliance maker gives money to poverty relief both nearby and far away. Nan gave 20 million to a charity fund that he chairs and works with other private entrepreneurs in helping send poor kids in the hinterlands to school.
5. Li Jinyuan, chairman of Tiens Group
Total donations: 5 million yuan
The maker of nutritional and pharmaceutical products earmarks a certain amount for charitable causes every year.
6. Liu Zhiqiang, chairman of Heung Kong Group
Total donations: 5 million yuan
Known for its network of logistics, Heung Kong has also set up funds that help poor children in less developed provinces. Between 1992 and 1998, the amount added up to about 80 million yuan.
7. Rong Hai, president of Xi'an-based SeaStar Group
Total donations: 4 million yuan
Rong Hai is known for his frugality, yet he does not hesitate when it comes to helping with the education of poor kids. He set up a 400,000-yuan (US$48,000) scholarship fund for Xi'an Jiaotong University, his alma mater, and put in another half a million for a provincial committee that provides financial aid to poor school children.
8. Shi Lianfa and Lu Li, founders of Zhongdong Group
Total donations: 3 million yuan
The trader of agricultural products has an annual sales revenue of 2.49 billion yuan and is ranked 27th in the nation's list of private enterprises.
9. Lin Shengxiong, chairman and general manager of Zhejiang Shengxiong Group
Total donations: 3 million yuan
A contractor of infrastructure projects that grew exponentially. Lin sees to it that his financial assistance flows mostly to charities of education, including 71 Hope schools in the hinterlands. Total donations since 1991 have added up to 50 million yuan.
10. Li Xiaohua, chairman of Hong Kong-based Huada Investment Group
Total donations: 500,000 yuan in cash, one auto vehicle and 2 million yuan worth of "brain-stimulating" nutritional products.