Millions to be laid-off as SOEs streamline
( 2004-01-08 23:58) (China Daily)
Some 3 million workers may lose their jobs every year until 2006 as China's over-staffed State firms streamline.
State-owned firms are expected to finish restructuring by then, said Zhang Silin, minister of labour and social security.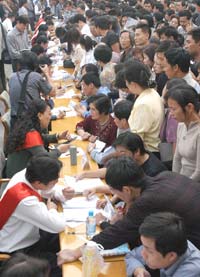 Laid-off workers seek jobs at a labour fair in Wuhan, Central China's Hubei. [newsphoto.com.cn]
Still, "re-employment will remain a hard nut to crack," said Zheng.
The government boasted of its success to date, helping 4 million laid-off workers find new jobs last year and keeping the registered urban jobless rate at 4.3 per cent, below the goal of 4.5 per cent, set in early 2003.
But there are still 2.7 million laid-off workers waiting to be employed.
Meanwhile, unemployment numbers will continue to rise as more money-losing State-owned enterprises regroup and close.
In December, Zheng's ministry announced plans to help 5 million laid-off workers find jobs in 2004 and to keep the urban jobless rate at around 4.7 per cent.
Zheng said the goal could be achieved if the economy maintains rapid growth and policies favoring re-employment are implemented.
In three years, the government will close re-employment service agencies.
Lay-offs will then be handled by the country's security net of jobless insurance, said Zheng.
Re-employment agencies were introduced nationwide in 1998 as an interim programme to help workers laid-off from money-lossing State-owned enterprises.
Since 1998,reforms have increased both efficiency and the number of laid-off workers. About 27.8 million employees have lost their jobs due to amalgamations or bankruptcies in the past five years.
Laid-offs workers, who are usually paid meagre sums for basic living necessities in line with a three-year contract by re-employment agencies, are not included in unemployment numbers.
After the contract expires, laid-off workers still not re-employed will be reclassified as jobless.
The closure of re-employment agencies, aimed at setting up a sound labour market suitable to the market economy, will push the unemployment rate higher, said Cai Fang, director of the Institute of Population and Labour Economics at the Chinese Academy of Social Sciences.
That's because a large proportion of the remaining laid-off workers will be added to the jobless rolls as a result of obsolete working skills, he said.
Technological training and upgrading are essential as China has entered a "pivotal period" in restructuring its economy, said Lu Zhongyuan, director of the macroeconomics research department of the Development Research Centre of the State Council.
Lu said such "structural" unemployment is unavoidable, as labour moves from the agriculture sector to manufacturing industries, which are more technology- and capital- intensive.
"A deeper-seated reason is the population growth in the world's most populous nation," Lu said, adding that many employment opportunities are offset by population growth.
"Some 24 million more jobs are needed this year, to absorb the new labour force which includes migrants and college graduates," Lu said.
"It will take another generation for China to slow down its population growth," he added. "And the employment pressure won't be alleviated within 20 to 30 years."