Automakers see rewards, and risk, in booming China
( 2004-01-08 14:05) (Agencies)
Buick, the century-old American car brand, may soon sell more vehicles in China than in the United States. It won't be alone -- Volkswagen AG already sells more cars in China than at home in Germany.
As automotive executives gathered in the Motor City this week for the Detroit auto show, the talk often turned to China, where bikes are giving way to cars, vehicle sales are soaring and profit margins are fat.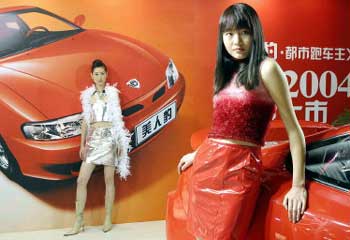 Chinese models pose in a newly opened auto showroom in Beijing. China has started slashing its average import tariff rate to 10.4 percent from the current 11 percent in accordance with its concessions to enter the World Trade Organization. [AFP]

Automakers have announced plans to pour billions of dollars into new joint venture assembly plants in China, which in 2003 passed Germany to become the world's third largest new car market with vehicle sales of about four million, and could top Japan in a few more years.

"Every major carmaker will be there," said Louis Schweitzer, the chief of French automaker Renault SA, which will announce its own China-entry plan in a few months. "It will be a significant plank of our strategy."

While talking up the sales potential, automotive executives also acknowledged some of the risks in China, where most consumers pay for new vehicles with bags of cash and consumer credit is a new concept.

NO 'REPO MAN'

Buick's parent General Motors Corp., Volkswagen and Toyota Motor Corp. won approval from China's banking regulator in December to set up auto-financing operations, which could make cars more affordable for many people, but also runs its own risks.

"The biggest issue is there is no nationwide credit system available," said Phil Murtaugh, the head of GM China, which is the second foreign largest automaker in China behind Volkswagen. "So there is risk there."

Some cities, such as Shanghai, where the largest of GM's four Chinese plants is based, are creating their own systems to check the credit risks of consumers, Murtaugh said. But should auto loans turn bad, there is no "repo man" in China to repossess cars used as collateral for the debt.

"There's no established process in place for repossession," Murtaugh said. "Our plan going is that we will be cautious on the credit side. We're not going to give credit to everybody that applies."

Easy credit contributed to the recession, and weaker auto sales, in neighboring South Korea last year, where one in 10 South Koreans over the age of 15 were classified as credit delinquents in November.

Nevertheless, some observers have compared the auto industry's investment in China to a gold rush -- GM earned more from its Asia Pacific operations in the third quarter than from its traditional base of North America. An imported Cadillac DeVille luxury sedan, which retails for between US$45,000 to US$51,000 in the U.S. market, sells for over US$100,000 in China.

HIGH GROWTH, BUT NOT WITHOUT RISK

For U.S. automakers, struggling with a cutthroat price war and closing plants at home, China's booming car market offers a new source of growth.

While there are about 200 cars per 100 households in the United States, only about one-in-four homes have a car in the major Chinese cities of Beijing and Chengdu, which have the highest car penetration rates in the country.

Volkswagen and GM racked up sales growth in China in excess of 40 per cent last year, as well-heeled consumers snapped up new cars. Total vehicle sales rose about 30 per cent last year, and Murtaugh said that they could rise another 15 per cent to 20 per cent in 2004.

"Fifteen to 20 per cent is about five times what it is in any other market," Murtaugh told Reuters.

That growth has led to huge investments in new plants, and raised some fears of overcapacity and falling profit margins.

Debt rating agency Standard & Poor's warned on Wednesday of a uncertain outlook in China. It said in a report that car supply may outstrip demand over the medium- to long-term, and few automakers will be able to reap the profits they hoped. Car companies may also have trouble transferring earnings out of China, due to an onerous taxation system.

By the end of 2006, car prices will fall to the same levels as in other markets around the world, said Katsumi Nakamura, president of Dongfeng Motor Co. Ltd., the joint venture between Japan's Nissan Motor Co. Ltd. and Dongfeng Motor Corp., China's third largest carmaker.

Those fears limited Ford Motor Co.'s investment in China to $1 billion over the next few years, said David Thursfield, Ford's head of international operations.

"We've taken a conservative approach," Thursfield said. "I didn't want to go with a big bang into China. For the people doing that, I think there's a high risk of danger that the margins will not be there by the time the plant opens."