Heart attack kills Dominica Prime Minister
( 2004-01-08 09:16) (Agencies)
Prime Minister Pierre Charles of Dominica, who slashed public spending in a bid to help his island's economy and was a critic of U.S. policy in the Caribbean, has died of an apparent heart attack.
The 49-year-old leader was leaving his office after a Cabinet meeting Tuesday night when he complained of chest pains and slumped over in the back seat of his car while being driven home, said Dr. Irvin Pascal, the country's chief medical officer.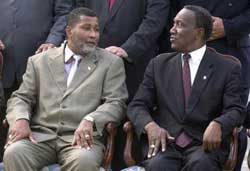 The Prime Minister of Dominica Pierre Charles, left, speaks with the Secretary-General of the Caribbean Community Edwin Carrington during the official photo of the 24th Regular Meeting of the Caribbean Community Heads of Government, in Montego Bay, Jamaica, in this July 3, 2003, file photo. [AP]

Leaders of the Dominica Labor Party, the nation's main party, Education minister named successorchose the education minister as the next leader of this Caribbean country Wednesday. Roosevelt Skerrit, 31, had yet to be formally appointed by President Nicholas Liverpool, but was expected to be approved.

Flags were lowered to half-staff at government buildings after Charles' death.

"It's a tremendous shock to the nation," said Tourism Minister Charles Savarin, among more than 200 people who gathered Tuesday night outside Princess Margaret Hospital, where Charles was pronounced dead.

Medical officials said the apparent cause was a heart attack. An autopsy was planned Thursday.

Charles suffered from heart problems and recently took a three-week leave of absence to rest on his doctor's advice. He had returned to work in mid-December.

Charles was born June 30, 1954, in the village of Grand Bay in southern Dominica and first worked as a schoolteacher. He was elected to Parliament in 1985 and appointed prime minister in 2000 after predecessor Roosevelt Douglas died of a heart attack.

"It is the second time in the life of this government that we have to go through this trauma," Savarin said.

The country's longest-serving legislator, Charles began as part of the political opposition and criticized the 1983 U.S. invasion of nearby Grenada, which was supported by Dominica's leader at the time, Prime Minister Dame Eugenia Charles.

Recently, the prime minister was critical of the United States when its troops invaded Afghanistan, accused them of killing innocents as he urged a halt to the conflict.

He also called on the United States to lift its trade embargo against Cuba. One of his first acts as prime minister was to establish diplomatic ties with Libya.

At home, Charles defended recent austerity measures as necessary to improve the economy of one of the Caribbean's poorest countries.

The lush, mountainous island between Guadeloupe and Martinique subsists largely on small industries of agriculture and tourism.

Last year's budget cut public spending by 15 percent and introduced new taxes ¡ª measures that were unpopular with many workers and led to strikes in the former British colony of 71,000 people.

In February, Charles underwent angioplasty in Trinidad and Tobago after complaining of chest pains while attending a summit of Caribbean leaders. The procedure was repeated in Atlanta in August. To recover, he began his leave of absence in late November, returning to work three weeks later.

Concerns over Charles' health recently led some politicians to call for him to step down. Some criticism came from members of his own party.

Charles is survived by a wife, with whom he had two children, and one son from a previous relationship. Funeral arrangements had yet to be announced.