US soldier dies, 34 wounded in Iraq mortar attack
( 2004-01-08 08:30) (Agencies)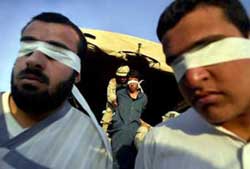 Blindfolded Iraqi detainees are brought to a make-shift barbed wire pen in Hamreen and Telog Sabee villages in a August 31, 2003 file photo. In what it called a gesture of reconciliation, the U.S.-led administration in Iraq will release more than 500 prisoners detained as low-level security threats over the past eight months, officials said on January 7, 2004. [Reuters]

One U.S. soldier was killed and 34 were wounded in a mortar attack on a U.S. military base west of Baghdad, a U.S. military spokesman said Thursday.
An estimated six mortar rounds struck in or near Logistical Base Seitz on Wednesday night, said a U.S. military statement, adding the wounded troops had been given first aid or evacuated for medical treatment.

"Some have already returned to duty," a U.S. military spokesman told Reuters, but he was unable to give any figures.

No further details were available of the attack or the seriousness of those receiving medical treatment. The soldiers belonged to the 541st Maintenance Battalion of the U.S. 3rd Corps Support Command.

Washington has blamed supporters of Saddam Hussein and foreign Islamic militants for guerrilla attacks on U.S.-led forces and Iraqis cooperating with the U.S.-led administration in Baghdad.

Iraq's U.S. governor Paul Bremer said the prisoner releases would be accompanied by a crackdown on remaining die-hard guerrillas, in what a coalition official described as a "carrot-and-stick" effort to secure lasting peace.

About 500 Iraqis held as low-level security threats in the last eight months are due to be released. Altogether some 9,000 prisoners are being held and many more have been detained and released since Saddam was ousted in April.

"TIME FOR RECONCILIATION"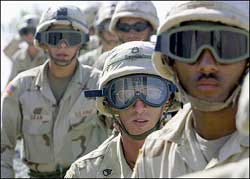 US troops from the 101st Airborne Division listen to a squad leader at an airbase in Qayyara, 35 kms south of Mosul. [AFP/File]

"It is time for reconciliation, time for Iraqis to make common cause," Bremer told a news conference. Those suspected of serious violent crimes would not be freed, he said.

Adnan Pachachi, president of the U.S.-appointed Iraqi Governing Council, said 100 prisoners would be freed on Thursday and thousands more soon.

"I think there has been great joy in Iraq for many families who have lost contact with their dear ones for several months," he told CNN television. "There is a promise that several thousand detainees may be released in the next few months."

As well as a $10 million reward already offered for the capture of Saddam's chief deputy, Izzat Ibrahim al-Douri, $1 million bounties have been put on the heads of 12 others still at large on Washington's list of 55 most wanted Iraqis.

Saddam himself was captured by U.S. troops in December.

Bremer said a new program offering up to $200,000 for information leading to the capture or death of other insurgency leaders not among the 55 would soon be introduced.

Iraq's most senior Shi'ite Muslim cleric, Ayatollah Ali al-Sistani, criticized U.S. plans to hand over power to Iraqis in mid-2004 as being unfair in terms of representation.

Shi'ites make up the majority of Iraq's population, but were repressed under Saddam, a Sunni Muslim.

Sistani said a transitional government in June and elections next year would not "ensure in any way the fair representation of the Iraqi people."

Making a rare comment on politics, Sistani said he wanted elections to be held before June but had been told that was not feasible.

The reclusive cleric, who U.S.-led authorities have tried to woo but apparently with little success, said there had to be "another solution that is honest to the Iraqi people's demands."