Tiananmen Square protest planners arrested
( 2004-01-08 08:25) (Xinhua)
Two men who planned a mass protest in Tiananmen Square in December have been held in custody by police, the Beijing Municipal Public Security Bureau announced recently.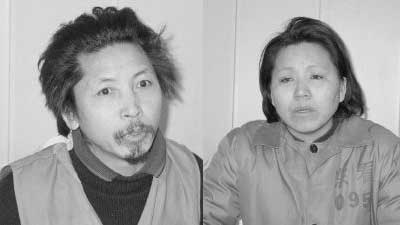 Su Shuping (right) and Wu Daming are held in custody by police for planning a mass protest in Tiananmen Square. [chinadaily.com.cn]
Sun Shuping, 32, from Xinjiang Uygur Autonomous Region, and 46-year-old Wu Daming from southwest China's Sichuan Province were held in custody for illegal gathering and leading over 100 protesters, who came from various localities of the country to complain about different problems, to Tiananmen Square on December 12,2003.
Beijing police said their activities violated China's law and regulations on protest and demonstration.
Sun came to Beijing last November to complain about a court rule over her family property and Wu entered the capital to appeal a debt dispute in October 2003.
Sun and Wu got to know each other in Beijing and then applied for permission for the protest on December 9, 2003, but the application was denied.
Police also said two other people, Zhang Shangzhong, from northwest China's Shannxi Province, and Zhao Fengcai, from north China's Inner Mongolia Autonomous Region, were also detained for organizing dozens of people to try to rush into and protest in the Diaoyutai State Guest House, where visiting foreign country leaders usually stay and important meetings are held.
A police spokesman said Chinese citizens can deliver their complaints to relevant government departments in a lawful way. Illegal protests will not help to solve the problems and organizers of such protests will be punished according to the law.