33,761 policemen dismissed
( 2004-01-08 08:25) (Xinhua)
China dismissed 33,761 unqualified policemen from law enforcement jobs and cleared 10940 sub-standard workers out of public security departments all over the country from last August to last November.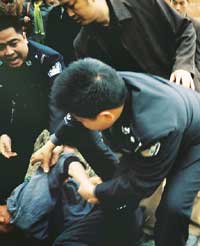 Police are involved in a conflict with local villagers in Zizhong County, Southwest China's Sichuan Province on December 1, 2003. Two villager are injured in the incident, which aroused heated public debate over police conduct. [newsphoto.com.cn]

The clean-up campaign was initiated last July, when Zhou Yongkang, Minister of Public Security, stressed law enforcement and police problems in his report to the country's senior leaders.

The report aroused great alarm, and President Hu Jintao and other members of the Standing Committee of the Communist Party of China (CPC) Central Committee Political Bureau gave immediate instructions, demanding strict rectification of policing problems.

According to the Law on the People's Police, only policemen are qualified to enforce laws in the public security departments. However, an increasing number of staff in these departments without police qualification have participated in law enforcement tasks. Some order fines and collect fees against regulations, and some even commit crimes, tarnishing the police image among the public.

Though the ministry retained a low-profile approach due to the "sensitivity" of news stories about police, the clean-up campaign was widely applauded by domestic media.

The campaign, mainly targeting public security departments at and below city-level, has forbidden non-police staff from control of public order, carrying out forcible measures like detaining and interrogating suspects, investigating crimes and collecting evidence, using police weapons, and wearing police uniform.

The ministry also urged provincial-level public security departments to standardize recruitment and improve the police force.

China fired 273 police officers and punished 616 last year for gambling, drinking on duty, drunk driving, and carrying guns off duty, following new rules imposed last January, which explicitly forbid such behaviors, along with carrying guns while drunk.

Meanwhile, 519 police cadres received disciplinary penalties for corruption last year, according to the Oriental Outlook.

In addition, local public security departments all over the country also started to deal with unlawfully prolonged detention cases last September, releasing 7621 prisoners by November 23, 2003.

However, the ministry's work conference following the mass sacking said it would intensify improvements in the quality of police staff.

Earlier reports said a police station in Yongnian County, north China's Hebei Province, was staffed by only 10 officers even though it covered 126,000 people. South China's Guangxi Zhuang Autonomous Region also had at least 88 police stations with only one or two officers each.

Official statistics show China now has 1.7 million policemen, much less than developed countries, and nearly 5,000 have died on duty in the past five years. But Prof. Wang Yong said the shortage could not be solved just by increasing the number of officers.

"The police are not distributed in balance, with rich areas having far more than poor areas. Functions of different police sectors often overlap in public security departments," Wang said.

Oriental Outlook listed overburdening as another cause. Police in rural areas were often compelled by local governments to levy taxes and promote family planning, both tasks which were outside their area of responsibility. City police were sometimes ordered to "help" pull down buildings and retrieve debts for individuals or work units, which hindered their focus on crime.

"Difficulties still remain in reforms of the police force," Wang said.