Syria, Turkey insist Iraq remain united
( 2004-01-07 14:23) (Agencies)
The leaders of Iraq's neighbors, Syria and Turkey, insisted Tuesday that Iraq remain united, issuing a warning to Kurds who may aspire to create an independent state in the north of the country.
In Washington, Secretary of State Colin Powell said the United States believes the Iraqis should decide the future of the overwhelmingly Kurdish northern region, but "it is absolutely clear" it must remain part of Iraq.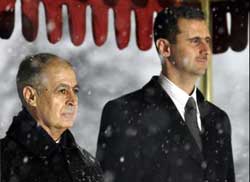 Presidents Ahmet Necdet Sezer of Turkey, left, and his Syrian counterpart Bashar Assad listen to their national anthems before they review a Turkish honour guard during a ceremony for Assad at the Cankaya palace under heavy snowfall that blanketed Turkish capital, Ankara on Tuesday, Jan. 6, 2004. [AP]

The statements came as Iraq's Governing Council has been hammering out details of a new government for Iraq. Iraqi Kurdish leaders are asking for greater autonomy for the oil-rich north and a federal Iraq based on two ethnic states.

Although Iraqi Kurdish leaders are not asking for independence, Turkey fears that increased autonomy and states based on ethnic identity will encourage separatism.

Turkish Kurdish rebels fought a 15-year war for autonomy in southeastern Turkey that claimed some 37,000 lives.

Turkish leaders have repeatedly said they will not tolerate Kurdish independence in Iraq, which they say will lead to the disintegration of the country and the destabilization of the region. Iran, Syria and Turkey all have large Kurdish minorities in regions bordering Iraq.

"We condemn all approaches that pose a threat to Iraq's territorial integrity," Syrian President Bashar Assad said after flying to Ankara in the first visit to Turkey by a Syrian head of state and meeting with his Turkish counterpart, Ahmet Necdet Sezer.

Sezer added that Syria and Turkey "share the same views on the protection of Iraq's territorial integrity and of its national unity.... We confirmed that Turkey and Syria, as two countries of the region that neighbor Iraq, are determined to effectively watch over these goals."

Earlier, Assad told CNN Turk television that "if there is no territorial integrity in Iraq, we cannot talk about stability in Iraq or in our countries. ... We are not only against a Kurdish state, but any state that would break the integrity of Iraq."

The warnings came in statements delivered at the end of a ceremony to mark the signing of agreements to promote mutual cooperation.

Northern Iraq is a largely autonomous area that is one of the relatively stable regions of the country with few U.S. troops.

Turkey is particularly worried about Kurdish control over the oil-rich northern city of Kirkuk. Iraqi Kurdish fighters moved into the city after the fall of Saddam Hussein (news - web sites), and control over its resources would make a possible state more economically viable.

As the leaders met in Ankara, Powell emphasized Washington's commitment to keeping Iraq unified.

"The Kurds wish, in some way, to preserve their historic identity and to link it in some way to geography," Powell said. "But I think it's absolutely clear that that part of Iraq must remain part of Iraq.

"We'll be in close consultation not only with Turkey, but with the other neighbors in the region who have an interest as well," Powell added.

The Turkish-Syrian meeting came just a few days before a weekend visit to Tehran by Turkish Foreign Minister Abdullah Gul. Iran, one of Iraq's other neighbors, also opposes any moves toward Iraqi Kurdish independence.

"Turkey has been increasing dialogue with Syria and Iran," said Soner Cagaptay, an analyst with the Washington Institute for Near East Policy. "All of these three have ongoing anxieties over northern Iraq. The war has moved Syria, Turkey and Iran closer to each other on this issue."

Turkish Prime Minister Recep Tayyip Erdogan is expected to raise the issue of northern Iraq this month when he meets with President Bush (news - web sites) in Washington.

The visit by Assad comes amid Syria's increased isolation and raises hopes that Syria could use warming relations with Turkey, a NATO member and Israel's best friend in the region, to ease ties with Washington and raise contacts with Israel.

The United States has accused Syria of supporting terrorism and Saddam's regime.

Sezer said he discussed Iraq, Israel and bilateral ties with Assad.

Israeli officials have expressed hope that Turkey could become a pathway for messages between the two sides.

Israel has given Turkey messages for Assad, and Israeli ambassador Pinchas Avivi is planning to meet with Erdogan the day after Assad departs Ankara, Israeli Embassy spokeswoman Sharon Bar-Li Saar said.

Assad, meanwhile, asked by the British newspaper The Daily Telegraph whether Syria has chemical weapons, said "it is natural for us to look for means to defend ourselves" against Israel.

"We are a country which is occupied and from time to time we are exposed to Israeli aggression," the newspaper quoted Assad as saying. He apparently referred to Israel's occupation of the Golan Heights and recent attacks against Syrian bases of suspected Palestinian militants.

"It is not difficult to get most of these weapons anywhere in the world and they can be obtained at any time," Assad said.

Relations between Turkey and Syria have been improving since the late 1990s, when Turkey threatened military action against Syria for its support of Turkish Kurdish rebels. The threat forced Damascus to expel Kurdish rebel leader Abdullah Ocalan, who was later captured and imprisoned in Turkey.