SARS patient to be discharged from hospital
( 2004-01-07 10:59) (China Daily)
The 32-year-old television producer in South China's Guangdong Province who has been confirmed as a SARS patient has fully recovered and will be discharged from hospital tomorrow.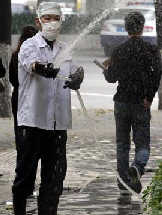 A Chinese hospital worker wearing a mask washes the sidewalk outside the No. 8 People's Hospital, where a SARS patient has been treated in Guangzhou, South China's Guangdong Province, Jan 6, 2004. [AP]

Tang Xiaoping, president of the No 8 People's Hospital of Guangzhou, the provincial capital, where the man has been treated since December 24, said: "The patient has had a normal temperature since December 24.

The man met the three standards set for a patient of SARS (severe acute respiratory syndrome) to be discharged from the hospital in China: disappearance of shadows on the lungs, loss of accompanying symptoms and no fever for over a week.

Meanwhile, only four out of the 81 people who have had contact with the confirmed patient remain under medical observation. The rest have been released from quarantine and are said to be well. And no other suspected or confirmed case have been reported by the Ministry of Health in the Chinese mainland and in the regions of Taiwan, Hong Kong and Macao yesterday.

However, a Philippine woman returning to Manila from Hong Kong on December 20 is still under medical observation in a local hospital there.

She had exhibited some SARS symptoms, including fever and a cough on December 24, 2003 and then was sent to hospital as a possible suspected SARS case.

The 42-year-old is now in good condition without fever or cough, Manila's World Health Organization representative Jean-Marc Olive told China Daily yesterday.

"We need to wait and see, as well as do further clinical tests, to confirm whether she is a suspected case or not,'' Olive said. He added that the final results are expected to come out before Friday.

Meanwhile, he said that he is fairly certain that sufficient measures have been taken by Philippine health authorities to prevent the possible spread of the virus.

As well, authorities in the Philippines have informed their counterparts in Hong Kong about the information of the woman for further investigation, Olive noted.

Since the SARS epidemic subsided in June of last year, a total of three confirmed SARS cases have been reported respectively in Singapore, Taiwan, and Guangdong.

Patient Says Never Ate Civet

Mean while, Xinhua News Agency reported Wednesday that the contracted SARS patient had never eaten civet cat, as thousands of the animals were culled on fears they may carry a form of the virus that can jump to humans.

The only contact with wildlife the patient could recall was with a mouse he threw out of a window, the Xinhua news agency said.

Chinese health authorities said a gene sample from the 32-year-old man, surnamed Luo, resembled that of a coronavirus found in civets, a local delicacy.

China has given a Saturday deadline for the slaughter of about 10,000 civets as it tries to avert a SARS outbreak.

"Still unaware of the cause of his catching SARS, environmentalist Luo said he had never touched or eaten civet cats in his life and recalled only having thrown a baby mouse out of the window by hand," Xinhua said.

Luo, 32, complained of a headache and fever on December 16 and was admitted to an isolation ward at the No. 1 Hospital of Zhongshan University on December 20.

Initially diagnosed as having pneumonia, he was transferred to the No. 8 People's Hospital on December 24.

"The disease is not that fearful," Luo said in a telephone interview with the news agency from the Guangdong capital, Guangzhou, on Tuesday.

"It was quite a shock to realise that I might have contracted SARS, when I was sent to the isolation ward," said Luo.

"My appetite is very good now, and I can almost take all the food provided by the hospital," said Luo.

Luo had been living alone in Guangzhou and had not told his family about his illness, Xinhua said.