Details of Bush Immigration plan outlined
( 2004-01-07 10:53) (Agencies)
A plan being proposed by U.S. President Bush would give legal status to foreign workers, including millions already toiling in America's underground economy, removing the fear of deportation but not putting them on a fast track toward permanent U.S. residency.
In a speech Wednesday at the White House, Bush will ask Congress to approve changes to immigration policy, arguing that they would make the country safer by giving officials a better idea of who is crossing the border, bolster the economy by fulfilling employers' needs and protect illegal workers' rights.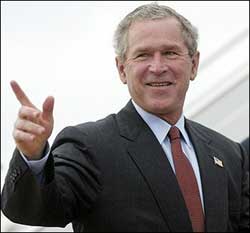 US President George W. Bush will outline his new immigration policy in a speech Wednesday. [AFP/File]

Also, in a nod to conservatives who oppose any reward to those who enter the United States illegally, Bush is including in his plan incentives ¡ª such as the promise of retirement benefits and the ability to open tax savings accounts ¡ª to entice the workers to return to their home countries.

Immigrant advocacy groups say the president's proposal, known as a "temporary worker program" and outlined by senior administration officials Tuesday night, falls short of comprehensive reform. On the other hand, groups wanting to curb immigration say the president's proposal for a three-year temporary worker plan, rewards foreign workers who broke the law when they entered the United States.

"It's a two-step amnesty," said Mark Krikorian, executive director of the Center for Immigration Studies, which advocates strict immigration rules.

"It's not what the folks on the left want, which is a quick green card, but it is an amnesty nonetheless," he said. "It legalizes illegal immigrants and is going to increase the number of green cards so that people will be able to move through the system faster." A green card grants an immigrant permanent residency.

"Extremely disappointing," said Cecilia Munoz, vice president for policy at the National Council of La Raza, a Hispanic immigrant advocacy group.

"It's a serious backtracking to where the president was two years ago when the administration was prepared to provide some kind of path to legal status," she said. "They're proposing to invite people to be guest workers without providing any meaningful opportunity to remain in the United States to become legal permanent residents. It appears to be all about rewarding employers who have been hiring undocumented immigrants while offering almost nothing to the workers themselves."

There are an estimated 8 million to 10 million undocumented immigrants in the United States, perhaps half from Mexico.

The proposed change in U.S. immigration policy could smooth relations with Mexico and help lure Latino voters.

The announcement comes just before Bush's scheduled meeting with Mexico's President Vicente Fox next week at the Summit of the Americas in Monterey, Mexico. Mexican officials have complained that the administration sought their help to improve border security and combat drug trafficking but failed to respond to pleas for an easing of U.S. immigration policy.

The aim is "matching willing workers with willing employers where there are jobs that Americans are not interested in filling," White House press secretary Scott McClellan said Tuesday. "It's important that we have a fair immigration policy and an immigration policy that addresses those economic needs."

Bush also is expected to broadly discuss giving workers from some countries expanded access to Social Security benefits, sources familiar with the plan said, speaking on condition of anonymity.

Current law generally requires any worker ¡ª legal or illegal, citizen or non-citizen ¡ª in the United States to have a total of about 10 years of work history to become eligible for Social Security retirement benefits.

Under reciprocal agreements the United States has with about 20 nations, some foreign workers are permitted to count work history in their native countries toward the 10 years they need to become eligible for Social Security benefits. These agreements also keep workers and employers from paying taxes into both countries' government retirement systems.

New agreements, especially with Mexico, could dramatically increase the number of foreign workers and their families eligible for Social Security in the United States, regardless of their legal status. The Bush administration has been considering such an agreement with Mexico for some time, but the sources said Bush wasn't expected to identify specific countries in his speech.

A big concern about a possible agreement with Mexico would be the huge number of Mexican workers in the United States, and the financial burden that could place on a Social Security system already facing major shortfalls starting in the next 15 years or so.

The Social Security Administration has estimated that an agreement with Mexico could cost $78 million in the first year, and soar to $650 million by 2050; congressional investigators think those figures could be low.