Iran, Egypt closer to restoring ties after 25 years
( 2004-01-07 08:50) (Agencies)
Iran renamed a street on Tuesday that had honored the assassin of former Egyptian President Anwar Sadat, paving the way for the Middle East's two most populous nations to restore ties broken 25 years ago.
An Iranian leader said the Muslim countries had agreed to patch up a relationship severed by Tehran shortly after the 1979 Islamic revolution because Cairo had signed the Camp David peace deal with Israel in 1978 and decided to host Iran's exiled shah.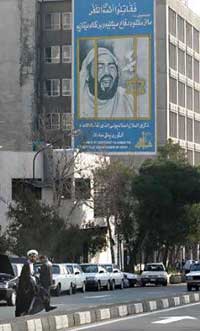 An Iranian cleric walks beneath a portrait of Khaled Islambuli on a building in the street named after him in Tehran January 6, 2004. Iran renamed a street that had honored the assassin of former Egyptian President Anwar Sadat, paving the way for the Middle East's two most populous nations to restore ties broken 25 years ago. [Reuters]

"The two countries have decided to restore ties...and right now they are making the preparations," Iranian Vice President Mohammad Ali Abtahi told Reuters. "By working together, Iran and Egypt can become an influential power in world issues."

But in Cairo, Egyptian Foreign Minister Ahmed Maher insisted it was too soon to speak of a decision on normalizing ties.

"When a decision is taken, it will be announced. There is no official announcement from anywhere," he told reporters.

An agreement between Tehran and Cairo -- a major U.S. ally and a key broker in Palestinian-Israeli peace talks -- would heal the last rift between Egypt and fellow Islamic states caused by the Camp David peace deal with Israel.

Non-Arab Iran, which still has no diplomatic ties with arch foes the United States and Israel, has made great efforts recently to improve relations with Arab neighbors.

"This is a step in accordance with (Iran's) detente policy and trust-building with all countries, especially Islamic countries," the official IRNA news agency quoted Foreign Ministry spokesman Hamid Reza Asefi as saying.

But Egypt said a final decision had yet to be taken.

A U.S. official cautiously welcomed the idea of a rapprochement, suggesting a U.S. ally like Egypt could help nudge Iran to take actions Washington wants to see as well as provide another window on Tehran.

"We're so well established in playing the bad cop (with Iran) that it always helps to have good cops," said the official, who asked not to be named. "If they can play the good cop, that leaves us free to play the bad cop but also to have the benefit of hearing what the Iranians have to say."

STREET NAME CHANGE PAVES THE WAY

The two countries have been edging closer in recent years and Iranian President Mohammad Khatami and Egyptian President Hosni Mubarak met on the sidelines of a conference in Geneva last month -- the first such meeting for more than two decades.

Some analysts said an agreement could pave the way for Iran to hand over some captured al Qaeda members -- a key demand of Washington. Among those Tehran is believed to be holding is Egyptian Saif al-Adel, al Qaeda's suspected operations chief.

The ground for restoring ties was paved by Tehran city council which agreed to rename a street which commemorated Khaled Islambouli, an Islamic radical who opposed the Israeli-Egyptian peace deal and killed Sadat in 1981.

The street's name was changed to Intifada street, after the Palestinian uprising, at the request of Iran's Foreign Ministry. Cairo had demanded Iran rename the street before it would contemplate restoring ties. Maher welcomed the decision.

A huge mural of Islambouli painted on the side of a building overlooks the street that bore his name in Tehran. The renaming was opposed by some religious hard-liners in Iran.

The hardline Jomhuri-ye Eslami newspaper referred to Islambouli as a "martyr" and said changing the street name was "an insult to Islamic and revolutionary values and causes."