Contract employees add new dimension to civil service
( 2004-01-07 00:08) (China Daily)
Zhang Ming, a computer expert, seems to be pleased to work for the Jilin provincial government though he earns less than when he was doing with a Compaq branch in Shenyang, capital of Northeast China's Liaoning Province.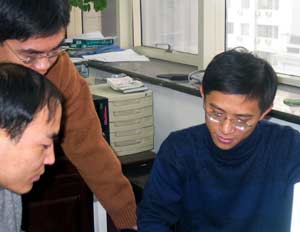 Zhang Ming (right) at his new office with colleagues. The introduction of contract employees at government departments has raised both acclaims and controversies. [China Daily]

In late November, he and another computer expert became the first "contract employees" in China amid a nationwide drive to restructure government administration. "Isn't it good for a person to be the 'first' involved in a reform of major importance?" asks Zhang, 33, who got his degree at the Shenyang Computer Technology Institute under the Chinese Academy of Sciences. He says that Jilin is his native province and that he wants to take a direct part in its development.

Zhang Ming now works as senior manager of the province's public security information network, and Li Wenyin, a former professor at the Computer Technology Department of Jilin University, as chief engineer. As contract employees, they have no administrative functions to perform. According to officials at the Ministry of Personnel, contract employees refer to people hired by the government to offer technical services either on a long-term basis or just for certain projects launched by the government. Unlike civil servants who, in most cases, have secure jobs, this new breed work under contracts signed with the government, and the parties will cease to be responsible for each other when a contract expires.

E-administration

The idea of recruiting "government employees" comes along with adoption by the government of e-administration for higher efficiency and greater policy transparency. In early 2003, the Jilin provincial government decided to push an e-administration programme at a cost of 600 million yuan (US$72 million). Then, at a press conference on June 10, it announced a decision to invite applications from all over China for three high-level technical posts for the programme. "The news caused a sensation," says Pei Zhanrong, an official from the Provincial Human Resources Bureau. "For days on end, our office was flooded by telephone calls from inquirers."

Zhang Ming and Li Wenyin emerged winners from among two dozen candidates competing for the three posts through written examinations and interviews. The third post, however, remains vacant. "We'd rather go without than have a person not totally qualified," Pei says.

Zhang Ming's annual salary is 100,000 yuan (US$12,000) before tax. "When working with Compaq, I earned much more," says the man, who declines to specify. Under a decision of the Jilin provincial government, wages for contract employees consist of 14 scales, the lowest being twice the average wage for civil servants and the highest, 15 times. Wages for civil servants in Jilin average 1,100 yuan (US$132.5) per month or 13,200 yuan (US$1,590) per year, suggesting that contract employees earn 2,200-16,500 yuan (US$265-US$1,987) per month or 26,400-198,000 yuan (US$3,180-US$23,855) per year.

The official adds that the wage ceiling may be broken when the government has to hire an "exceptionally high level" expert. "That will be decided through negotiation," he says.

Controversy

Governments in several other places are following Jilin's example. The government of Wuxi City in East China's Jiangsu Province has decided to recruit from home and abroad competent professionals for seven posts, offering an annual salary of up to 500,000 yuan (US$60,000). Zhuhai in South China's Guangdong Province is recruiting experts in law, finance, foreign languages and information technology. Wages for contract employees in the city have six scales, ranging from 44,400 yuan (US$5,349) to 104,400 yuan (US$12,578) per year.

Li Dezhi, deputy dean of the Jilin University Administration School, describes hiring of contract employees as a "new, flexible way of human resources management," an attempt to change the existing structure of government jobs which, more often than not, stresses the candidate's following orders faithfully rather than their professional expertise.

Other experts hold that this new way of recruiting people by the government injects vigour and vitality into the government as it motivates civil servants to improve themselves.

Civil servants in Jilin, however, are apathetic towards this new practice, except those working at the province's public security system. Some feel offended. They blame the government for seeking help "from outside" instead of trying to find the right persons from among people already on its regular payroll. "There are numerous qualified professionals among us civil servants," says one in Jilin, who declines to be named. "The problem is that under the current personnel system, it is difficult for us to bring our talent into full play."

A man named Cai Hongdong, who claims to be a civil servant in a "poverty-stricken" county, is vehemently opposed to hiring of contract employees. "It's crazy," he says in an article on Xinhuanet, the website of Xinhua News Agency. "For 198,000 yuan (US$23,855) people like me will have to work for 20 years!"

Closer to the market

Some researchers and scholars come out to defend the hiring of contract employees. Bai Weichun, a professor at the College of Law and Political Sciences of the Northeast Normal University, hails the new payment system as an indication that the government is "edging closer to the market". "When something is in short supply, its price is bound to be high," he says. "The same rule applies to human resources."

Officials in Zhuhai say that hiring people from "outside" is made necessary by the stark reality. According to Chen Anzhong, director of the Zhuhai City Personnel Bureau, one of the working departments under the city government used to have three dozen IT experts. "Most of them have left for better-paid jobs in foreign-funded companies. What we are trying to do is to 'buy' experts at market prices."

Professor Bai shares the official's opinion. He stands for trimming the government staff for streamlined administration and higher efficiency while raising the wages of civil servants. Nevertheless, he takes relationship between contract employees and their bosses with a grain of salt. Says he, "What if an employee has a bright idea wrongly turned down by his or her boss who happens to be a layman? What if the boss fails to take a scientific approach towards errors of the employee in his or her work? Who is to be held responsible for the consequences? And how should the employee be evaluated?"

Despite all these worries, Wu Wenchang, head of the Human Resource Department of the Jilin provincial government, insists that hiring of contract employees is not an act on impulse or something coming out of the blue. "It has been proven effective in many industrialized countries," he says. "E-administration is being adopted by governments across the country to improve administrative efficiency and facilitate the State strategy that calls for rule of law," Wu notes. "Under such circumstances, hiring of contract employees will definitely usher in positive changes in government administration in China."

Wu and other experts believe that the number of government employees is bound to increase, given the momentum and scope of the country's economic restructuring and political progress.

Zhang Ming, now donning his police uniform, says he is "full of confidence." "I believe what I'm learning here will do me good all my life," he says.