Educational exchanges, expansion encouraged
( 2004-01-07 00:08) (China Dailly)
Opening educational resources to the outside world is an important part of the country's educational development, Minister of Education Zhou Ji said yesterday in Beijing.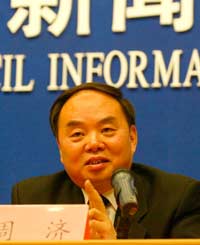 Minister of Education Zhou Ji answers questions at a press conference yesterday in Beijing. Zhou said China will increase the number of student and scholar exchanges between China and foreign countries and encourage more international education institutions to set up joint schools with their Chinese counterparts. [China Daily]

This includes sending Chinese students and scholars to study abroad as well as receiving foreign students to study in China, Zhou said while addressing a press conference held by the State Council Information Office.

China has sent more than 580,000 students or scholars to 103 countries or regions over the past 20 years.

Over the past two years, the number of overseas students in China has continued to rise, after being accelerated by its accession in December 2001 to the World Trade Organization. The Chinese mainland received a total of 86,000 students from 170 countries and regions in 2002 alone.

Last year's numbers will come out in February of this year, according to the ministry's Department for International Co-operation and Exchanges.

Overseas educational institutions are also being encouraged to enter China to jointly run schools with their Chinese counterparts, so as to provide more high-level study opportunities for Chinese citizens.

He said the country will face a long-term difficulty -- the shortage of higher-level teaching teams can hardly meet the demand of the rising need of citizens to update their learning.

Thus, the Chinese Government is welcoming excellent foreign educational institutions to jointly run schools with domestic partners, said Zhou.

Sino-foreign joint schools began to spring up in the 1990s, according to the Ministry of Education.

Incomplete statistics from the ministry indicate that the country has a total of 764 officially-approved Sino-foreign joint schools, scattered throughout 28 provinces, municipalities or autonomous regions.

China implemented the Regulations of Chinese-Foreign Co-operation on Operating Schools last year to help promote the development of such institutions.

To further guide teaching programmes and better protect the rights and interests of school sponsors, especially foreign partners, Zhou said his ministry is drafting detailed rules to make the regulations more flexible to implement.

The rules may give preferential taxation policies to joint schools sponsors, according to information China Daily obtained from the ministry's Department for International Co-operation and Exchanges. The department didn't give more details as the rules are still under revision.

Sino-Foreign joint schools can invite both Chinese and foreign teachers to instruct courses. Course arrangement and other teaching affairs are decided by school's councils, boards of directors or joint management committees which can be made up of domestic and overseas teachers, according to departmental official Cen Jianjun.

Zhou said the scale and quality of higher education have also shown great progress over the past five years. China has signed agreements with Britain, France and Germany to mutually recognize higher learning academic degrees.