Peugeot models to again be made in China
( 2004-01-06 17:30) (Agencies)
French automaker PSA Peugeot Citroen and its Chinese partner plan to invest US$500 million to expand production in China and launch two new Peugeot passenger models, heralding the marque's return to the country's booming auto market.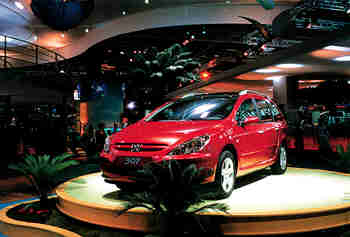 A Peugeot model on display in China. [file/newsphoto.com.cn]

Peugeot and Dongfeng Motor Corp. plan to launch the Peugeot 307 by Sep. 1 and the Peugeot 206 next year, doubling production at the joint venture's plant in the central city of Wuhan to 300,000 vehicles by mid-2006, the companies said in a statement Tuesday.

PSA Peugeot Citroen stopped making Peugeot models in China after pulling out of a previous joint venture in the southern province of Guangzhou in 1997.

The Wuhan plant now produces five Citroen models and targets call for the sale of 140,000 vehicles this year.

Dongfeng Motors Corp. Chairman Miao Wei said at a news conference in Beijing that the joint venture's operating profit in 2003 is expected to exceed 1 billion yuan (US$120 million).

Dongfeng Motors is China's third largest automaker and also has joint ventures with several other foreign automakers including Japan's Nissan Motors Co. which is controlled by Peugeot's French rival, Renault.

Foreign automakers have poured billions of dollars into their Chinese joint ventures this year, hoping to garner profits from a boom in private car ownership fed by rising incomes, easy bank credit and lowered import tariffs. Sales of passenger models are expected to have topped 2 million last year, double the figure for 2001.

Rising competition and massive expansion of capacity have sparked concerns over possible oversupply in the market.