China city folk take new SARS case in stride
( 2004-01-06 14:58) (Agencies)
When SARS appeared last year, Chinese people in hard-hit cities panicked, clearing shop shelves of food and medicine. Some hid at home, others fled to the countryside.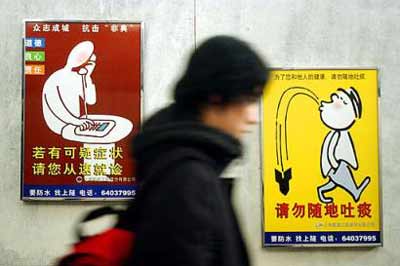 A man walks past advertisements promoting SARS prevention Dec. 29, 2003 in Shanghai. [AP Photo]


But on Tuesday, a day after China confirmed its first new SARS case in the mainland since a world epidemic was declared over in July, few people on the streets of Beijing seemed worried about the spectre of a new outbreak.

Many people expressed faith in the government.

"It's not scary at all," said Xia Huiyuan, 43, who has shined shoes in a five-star hotel for seven years and only experienced what he said was a slight drop in business during last year's outbreak. "The detection mechanisms are pretty complete. And stopping this disease is a long-term project, not a short-term deal," he said.

The flu-like disease was first found in southern China in late 2002 before spreading to almost 30 countries, infecting about 8,000 people and killing nearly 800, about 300 of them in Chinese mainland.

When the disease was at its height, virtually everyone in hard-hit Chinese cities wore surgical masks in public. Experts say the disease is spread by droplets in coughs and sneezes.

"Last year in April our business completely came to a halt," said Mu Yanling, a hostess at a hotel gym in the Guangdong capital, Guangzhou.

"This time we haven't seen any impact yet."

While in Beijing on Tuesday, there were almost no masks to be seen.

"NOT SO SERIOUS"

China confirmed on Monday that a a 32-year-old television producer in the southern city of Guangzhou had Severe Acute Respiratory Syndrome -- and said the virus was similar to that found in civet cats.

Zhu Xingtao, a 38-year-old businessman flying to Guangzhou said the government appeared to have things in hand.

"I don't really think it's a SARS outbreak," Zhu said. "It may just be one or two cases. The government has a system to keep everything under control."

Others said public awareness would keep the disease in check, even if more cases did crop up.

"I don't think SARS this year will be as serious as last year because people all know its danger," said kingdergarten teacher Sun Jing.

Xiao Ren, a 32-year-old philosophy student who was also flying to Guangzhou on Tuesday, said garlic was the ticket to blocking the virus.

"I've never been afraid of SARS because I eat a lot of garlic. I have my own mask on the inside so I don't need one on the outside," he said.

But bad memories die hard.

From the driver's seat of a taxi that smelled of freshly applied disinfectant, Niu Lijun, 42, recalled the toll SARS took on his business during its peak from late April to early June.

"For about a month, business was so bad that I couldn't even earn enough money to pay half the fee to rent the cab. I had to dip into my savings," he said. The fee is the equivalent of about US$20 a day.

"Those Guangdong people will blindly eat anything," he said, referring to suspicion the virus jumped to people from civet cats, which are a delicacy in China's south.

"But one case isn't a problem. If there are a number of cases, though, then it will be a hassle."

WHO: China is safe

The World Health Organization (WHO)said in Beijing Monday that China is still a safe place to travel even though the suspected SARS case in Guangdong was finally confirmed as diagnosed one.

"It is perfectly safe for members of the public to travel to Guangdong Province," WHO representative in China Henk Bekedam said at a press conference Monday evening.

"One SARS case in China is not an immediate public-health threat and there was no evidence of a spread of infection from the SARS patient to date," Bekedam said.