Reactions mixed to US security measures
( 2004-01-06 09:03) (Agencies)
Travelers criticized a new U.S. policy of photographing and fingerprinting foreign visitors as heavy-handed, but some voiced grudging acceptance Monday of the need for tighter security.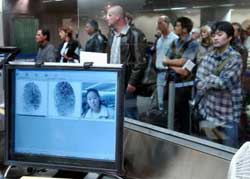 Visitors wait in line to be fingerprinted and photographed at the U.S. Customs check point at San Francisco International Airport in San Francisco Monday, Jan. 5, 2003. [AP]

U.S. customs officials began scanning fingerprints and taking photographs of foreigners arriving at U.S. airports Monday as part of a new program to keep out terrorists.

In retaliation, Brazil's Foreign Ministry started fingerprinting and photographing arriving Americans last week.

U.S. citizens waited for hours Monday to be photographed and fingerprinted at Rio's international airport.

"As far as reciprocity, Brazil has every right to do this," said Claire Fallender, a 27-year-old American sociologist from Boston, who said she had been waiting for five hours. "The only problem is without the technology to process people, it's causing frustration and losing the point of protesting American policy."

The U.S. Embassy in Brazil issued a statement Monday night expressing regret that American citizens were being singled out at Brazilian airports.

"While we acknowledge Brazil's sovereign right to determine the requirements for entry into Brazil, we regret the way in which new procedures have suddenly been put in place that single out U.S. citizens for exceptional treatment that has meant lengthy delays in processing, such as the case today with a more than nine hour delay for some U.S. citizens," said the statement signed by embassy press attache Wesley Carrington.

The statement added that the new U.S. policy is applied to citizens from more than 150 countries where visas are required to enter the United States ¡ª and not just Brazilians.

At the airport in Mexico City, Mexicans returning to the United States arrived up to six hours before their flights were scheduled to take off Monday.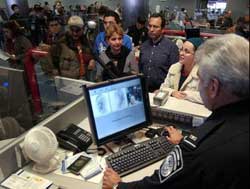 Carolina Velasco Cedeno, second from right, looks up toward a mini camera as U.S. Customs and Border Protection officer Roberto Alvarado, right front, records her picture and finger prints as Cedeno's parents, Carmen Cedeno de Velasco, center left, and Carlos Velasco Virgin, center right, look on upon their arrival at Dallas Fort Worth International Airport from Guadalajara, Mexico, Monday, Jan. 5, 2004, in Grapevine, Texas. [AP]

Many said the new measures were inconvenient, but most appeared to be moving through security and check-ins with few delays.

"I think it is a little much," said Constanza Carrillo, a 30-year-old computer software technician who lives in Denver. "But if it feels safer for the government of the United States and for Americans, we don't have a problem with it."

Victor Fuentes, an 18-year-old Mexican returning to the United States to study at a high school in Chicago, said more security was better than less.

"It's fine with me because it is for the safety of everyone," he said.

Last week, two Aeromexico flights to Los Angeles were canceled after U.S. officials reported possible security concerns.

Agents at U.S. border crossings won't begin fingerprinting and photographing travelers until later this year.

The new U.S. program targets foreigners entering the 115 U.S. airports that handle international flights, as well as 14 major seaports. Excepted are visitors from 27 countries ¡ª mostly European nations ¡ª whose citizens are allowed to come to the United States for up to 90 days without visas.

Osinachi Agwu, a 30-year-old banker in Lagos, Nigeria, said the measures were "a tool of discrimination against the non-European races."

Idris Mohammed, 46, a computer analyst in Lagos, said traveling to the United States would "never again be the pleasure it used to be."

"Though I bear a Muslim-sounding name, I'm actually a Christian," he said. "But you can visualize me visiting the U.S. and waiting with trepidation to be fingerprinted and photographed, afraid the computer may raise an alarm on finding a like name on the terror suspects' list."