Indian, Pakistani leaders meet at summit
( 2004-01-05 14:43) (Agencies)
Indian and Pakistani leaders held their first direct talks since nearly coming to war two years ago, infusing a major South Asian summit with hope that a half-century of venom between the uneasy neighbors might give way to rapprochement.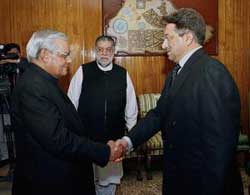 Indian Prime Minister Atal Bihari Vajpee, left, shakes hands with Pakistani President Gen. Pervez Musharraf as Pakistani Prime Minister Zafarullha Khan Jamali, center, looks on at the Presidential Palace in Islamabad, Pakistan, Sunday, Jan. 4, 2004. [AP]

Indian Prime Minster Atal Bihari Vajpayee and Pakistani Prime Minister Zafarullah Khan Jamali met for about 30 minutes Sunday on the sidelines of the South Asian Association for Regional Cooperation gathering, trading in nuclear bravado for smiling photo-ops and a pledge to maintain the momentum of their nations' most promising meetings in years.

Vajpayee then met early Monday with Pakistan's military president in an even more important sidelines summit, Pakistan's information minister and presidential officials said.

President. Gen. Pervez Musharraf welcomed Vajpayee at President House in the capital Islamabad at about 10:30 a.m. local time, said a security official at the residence who refused to be named.

Information Minister Sheikh Rashid Ahmed had earlier told The Associated Press said "the two leaders will discuss all issues" at the closed-door meeting.

It was not clear how long the ongoing meeting would last. A senior Pakistani official said no topic, including the flashpoint issue of Kashmir, was off the table.

In an earlier speech Sunday, Vajpayee said, "We must make a transition from mistrust to trust, from discord to concord and from tension to peace."

"Mutual suspicions and petty rivalries have continued to haunt us," he said. "History can remind us, guide us, teach us or warn us. It should not shackle us."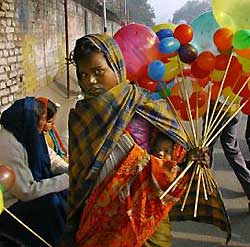 A woman sells balloons during a religious procession in New Delhi, India, Sunday, Jan. 4, 2004. Indian Prime Minister Atal Bihari Vajpayee called on the seven heads of state gathered in Islamabad, Pakistan, for a key summit to work together to fight poverty and improve the lives of their impoverished people, and pledged US$100 million to fund a poverty alleviation task force. [AP]

Musharraf made no mention of Kashmir or the Pakistan-India dispute in a pre-dinner speech Sunday, but did make a general call to put past disputes to rest: "There can be no development in the absence of peace. There can be no peace so long as political issues and disputes continue to fester."

Indian Foreign Minister Yashwant Sinha characterized the talks between Vajpayee and Jamali as a routine diplomatic courtesy call, distinguishing it from the launch of a comprehensive dialogue that Pakistan seeks on resolving long-standing disputes, especially the conflict over the divided territory of Kashmir.

A spokesman for Pakistan's Foreign Ministry, however, said he hoped the summit's bilateral meetings would prove the first steps on the path to formal peace talks. Vajpayee was making his first trip to Pakistan in nearly five years, and it is the first time leaders of the two countries held face-to-face talks since the middle of 2001.

"We hope that all these confidence-building measures will ultimately lead toward a composite dialogue and peace and security and stability in the region," spokesman Masood Khan told a press conference. "These high-level meetings are very important. They create a new ambiance, they create a new atmosphere and they can facilitate bilateral negotiations also."

The three-day summit has already led to a framework agreement for a long-stalled free-trade area aimed at improving the lives of one-fifth of the world's population. The leaders signed a social charter on human rights on Sunday and were also updating an agreement to combat terrorism, bringing it in line with U.N. resolutions to choke off financing for violent groups.

But the chief focus was clearly on the region's two largest and most powerful countries, whose decades of feuding has held the entire region as its economic hostage. Last year's SAARC summit was canceled after New Delhi refused to send its leaders to Pakistan.

Sri Lankan President Chandrika Kumaratunga used her opening session speech Sunday to pass along the prayers of all the South Asian leaders to India and Pakistan at a "historic moment" in their relations.

"The vision and courage demonstrated recently by the leaders of India and Pakistan in their efforts to resolve bilateral issues have infused this summit ... with a renewed sense of purpose and vigor," Kumaratunga said.

The fact that meetings between Pakistan and India are being held at all illustrates the length the countries have gone to repair their relations in the last nine months. They nearly went to war two years ago when Islamic militants that India claims were backed by Pakistan attacked the Indian Parliament on Dec. 13, 2001. Pakistan denies the allegations.

"The two prime ministers agreed that the momentum created in bilateral relations should be maintained," Sinha said. Sinha, meanwhile, met separately with his Pakistani counterpart, Khursheed Kasuri, who said that "the entire gambit of regional and international issues were discussed."

The summit was taking place under extraordinary security in the Pakistani capital following two recent assassination attempts against Musharraf. Some 10,000 police and commandos enforced a near lockdown on the deserted streets outside the convention center. Motorcades of armored limousines ferried the leaders of India, Pakistan, Bangladesh, Sri Lanka, Nepal, Bhutan and the Maldives to the site.