Georgians vote for new president
( 2004-01-05 14:14) (Agencies)
The 36-year-old U.S.-educated lawyer who led the drive to oust Eduard Shevardnadze six weeks ago claimed victory in Sunday's presidential elections as exit polls gave him an overwhelming lead.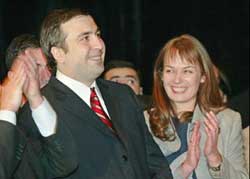 Top presidential candidate Mikhail Saakashvili, left, smiles while listening to the preliminary election results as his wife Sandra Roelofs applauds him in Georgia's capital Tbilisi Sunday, Jan. 4, 2004. [AP]

Georgian independent television Rustavi-2 said its exit polls indicated that favored candidate Mikhail Saakashvili won 85.8 per cent of the vote.

Preliminary official results were not expected until Monday, but Saakashvili nevertheless accepted the early results.

"We've got a very important mandate from our population to clean up the country, to consolidate power here, to make it official, to make it investment friendly, to make it peaceful and prosperous," he said.

Georgians had lined up patiently at slow-moving voting stations throughout the day to elect a successor for Shevardnadze, who stepped down six weeks ago in the face of massive protests over parliamentary election fraud in the former Soviet republic.

Saakashvili, who captured citizens' hopes with a bold campaign against corruption that led to the peaceful demonstrations that became known as the "rose revolution," was the favorite among the six candidates on the ballot.

Saakashvili, who graduated from Columbia University Law School and worked briefly for a New York law firm, has pledged to take a hard line against corruption and to restore the country's economy, which largely collapsed in the 1990s after the fall of the Soviet Union. Georgia also was ripped by two wars with separatist regions in the 1990s, ransom kidnappings became widespread and relations with giant neighbor Russia deteriorated.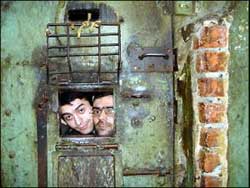 Vote from prison : Unidentified Georgian prisoners wait to vote at the prison in Tbilisi. [AFP]

In Tbilisi, the crumbling capital of the impoverished country, voters expressed optimism and pro-Saakashvili leanings. Some carried roses to the polling stations in commemoration of the flowers distributed to police by protesters as a sign of their peaceful intent.

"For us, it's a real holiday to use our voices to help the country," said Anastasia Kazmina, in her 60s, one of the voters who came in the freezing dawn to cast her ballot early.

"I have hopes that I will see Saakashvili help us," said Maia Soselia, a 23-year-old student.

The voting was closely watched by more than 500 international observers to ensure the violations and confusion of the Nov. 2 parliamentary elections did not recur.

"It was, as far as I can tell, a normal election," U.S. Ambassador Richard Miles said. "People voted freely."

Observers reported sporadic violations, including at least two cases of observers being turned away but then readmitted, and one case of a polling station being closed because the workers were having lunch. Poor weather prevented the delivery of ballots to at least one remote mountain region.

But Keti Khutishvili of the Georgian Young Lawyers' Association, a local group monitoring the elections, characterized the violations as general "misdemeanors" and not enough to consider the voting invalid.

About 1.7 million voters were registered ahead of the election, but Georgia has no central database of who lives in the country, so people not on the lists were allowed to register the day of voting.

Ultraviolet ink was placed on a finger of each voter and official polling station doors use black lights to scan the people entering to ensure no one was trying to vote more than once.

The rest of the voting procedure was primitive. Voters placed their ballots in envelopes and dropped them into clear plastic boxes. Some ballot boxes were sealed only with an official piece of paper hastily taped to the lid.

Results were not expected to be tabulated until Wednesday, reflecting the difficulty of compiling information in a country with shaky communications systems.

However, Central Elections Commission head Zurab Chiaberashvili said all 1.7 million people had voted.

"This is really, absolutely unparalleled in our history," Saakashvili said in English at the polling place in the Georgian Academy of Sciences in Tbilisi. "People are longing for a better future; that's something that should be appreciated by the new president and the new government."

Shevardnadze cast his ballot at another polling station in Tbilisi. Asked whether he had voted for Saakashvili, he said, "You're very close."

Looking relaxed, he then spoke warmly of his nemesis.

"I wish I had his energy ... Misha has a talent for contact with people," he said, using the familiar form of Saakashvili's first name.

A lower turnout took place in Adzharia, an autonomous province led by Saakashvili's adamant foe, Aslan Abashidze. He threatened to keep polling stations in his province closed but relented last week, although he told his supporters not to cast ballots.

Independent television stations Imedi and Rustavi-2, however, showed footage of Abashidze voting.

Chiaberashvili said about 15 per cent of the eligible people appeared to have voted in Adzharia as of late Sunday.

Abashidze said Sunday on Adzharian television that he had lifted the state of emergency he had declared in the province after Shevardnadze's ouster.

Georgia, with about 5.5 million people, was comparatively well-off during Soviet times, its economy bolstered by tourism and famous wines. But after the fall of Communism, the country's industries collapsed and Georgia was torn by the separatist wars in Abkhazia and South Ossetia.