Ministry confirms SARS case in Guangzhou
( 2004-01-05 16:30) (chinadaily.com.cn/Agencies)
After nine days of repetitive tests, the suspected SARS case in Guangdong Province, a 32-year male freelance television producer, was confirmed as having contracted the infectious disease, China's health ministry said in its website on Monday.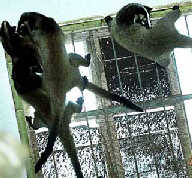 A virus gene sample from a suspected SARS patient in Guangdong resembled that of a coronavirus found in civet cats. [newsphoto.com.cn]

The suspected case was first reported on December 27, and has been treated at the No 8 People's Hospital in Guangzhou. Since his hospitalization, the local Guangzhou public health bureau, the neighboring Hong Kong medical authority and the World Health Organziation have conducted a string of inconclusive tests on the patient.

The case is now the first SARS patient on the Chinese mainland since the epidemic was contained last July, and also the first one contracted outside the labs. Earlier, two lab researchers in Singapore and Taiwan caught the life-threatening virus respectively.

All the 81 people that had contact with him had been quarantined but none showed SARS symptoms by Monday. Twenty-five of them have been released.

Civet cats to be killed

In a campaign to stop another SARS outbreak, China will kill 10 thousand civet cats and try to wipe out rats and cockroaches as fears of new cases of the flu-like disease spread in the Guangdong province and to the Philippines.

Guangdong Province planned to kill about 10,000 civets and close wild-animal markets to eliminate a possible source of the disease, state media said.

"We will start a health campaign to kill rats and cockroaches in order to give every place a thorough cleaning for the Lunar New Year," Guangdong health bureau official Feng Liuxiang was quoted by state media as saying. Chinese New Year begins on January 22.

"And we will kill all the civet cats in Guangdong free markets, which number about 10,000," he said.

SARS was first found in Guangdong in November 2002 and went on to kill 800 people around the world, including about 350 in China.

In the Philippines, a woman suspected of contracting SARS while working in Hong Kong has been isolated, but health officials said on Monday it was too early to confirm if she had the virus.

A spokesman for the center for diseases control in Guangdong said a virus gene sample from a suspected SARS patient in the province resembled that of a coronavirus found in civet cats which are a delicacy in southern China.

"We should begin the measures to prevent SARS beforehand and ban sales and eating of the animal in a bid to reduce the chance of contracting SARS virus," the spokesman said.

Hong Kong newspaper said a waitress had become the second suspected SARS case in Guangdong but provincial officials and hospitals denied the report.

The Hong Kong Standard said the waitress, in her early 20s, developed a fever a week ago and was being kept in isolation at the Guangzhou No. 1 People's Hospital. Citing unidentified reports from Guangzhou, it said the woman had symptoms of the flu-like illness but an announcement would not be made unless test results confirmed the disease.

"We do have a fever patient due to pneumonia, but this has no direct connection with any suspected SARS case," Wang Ming, deputy director of Guangzhou City diseases prevention and control center, told a news conference.

The No. 1 Guangdong People's Hospital told reporters: "We don't have a suspected SARS patient because we are not a first-line SARS hospital."