Purported Bin Laden tape mentions Saddam capture
( 2004-01-05 08:37) (Agencies)
The Arabic television channel Al-Jazeera aired an audio tape on Sunday purported to be from al Qaeda leader Osama bin Laden in which he mentioned the arrest of Iraqi president Saddam Hussein by U.S. troops last month.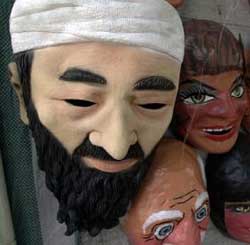 A mask of Osama Bin Laden hangs with other of Ecuadoreans in a shop in Quito, Ecuador Tuesday, Dec 30, 2003. On New Year's eve Ecuadoreans traditionally burn effigies on New Year's Eve to kill off bad luck from the outgoing year. [AP]

Saddam was captured on December 13. If authenticated, the tape would prove that the man being hunted by the United States for masterminding the attacks on U.S. cities on September 11, 2001, is still alive.

In Washington, a Central Intelligence Agency spokesman said it might take a couple of days to determine whether the tape, which sounded like previous broadcast recordings by the al Qaeda leader, was genuine.

The voice said Muslim and Arab leaders had reason to fear the precedent of letting foreigners topple a Muslim government, "especially after they saw the capture of their former comrade in treachery and collaboration with America" -- meaning Saddam.

The recording, which rambled like a sermon between a myriad of topics, urged Muslims to fight U.S. occupation forces in Iraq and criticized Gulf Arab governments for supporting Washington's invasion of an Arab country.

It said the fall of Baghdad would be a precursor to a U.S. occupation of Saudi Arabia and other oil-rich Gulf Arab states.

"There should be no dialogue with the occupiers except with arms, and this is what we should strive for," the voice said.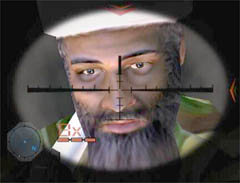 Add video gamers to the list of governments, special forces and soldiers hunting for Osama bin Laden, thanks to the PlayStation 2 game Fugitive Hunter: War on Terror. [CP]

"The West is trying to kill whoever carries the banner of Islam under the pretence of combating terrorism because they all know that jihad (holy struggle) is the effective power to foil all their conspiracies...

"Gulf Arab states know that their turn (for a U.S. invasion) is coming and they don't have the will to make the difficult decision to confront the aggression."

The voice also criticized Middle East peace moves, singling out the U.S.-backed "road map" for an Israeli-Palestinian peace and a symbolic peace accord signed in Geneva as an "attempt to destroy (Jerusalem's) al-Aqsa mosque and to vanquish jihad and mujahideen (holy warriors) in Palestine."

The tape also attacked recent efforts by Gulf Arab countries to remove references from school books that might be seen as encouraging militancy.

The voice lashed out particularly at the rulers of bin Laden's birthplace, Saudi Arabia, which has been battling a wave of militant attacks since May 2003 that it believes to be linked to al Qaeda.

At least 50 people have been killed in suicide bomb attacks in Riyadh since May.