Curing capital's congestion by 2008
( 2004-01-05 08:08) (China Daily)
Traffic in Beijing is expected to improve so much that by 2008, the year this city hosts the summer Olympic Games, it will take less than half an hour for athletes to travel from the Olympic Village to every venue in the city.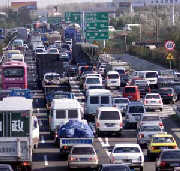 With more than two million private cars, Beijing is experiencing a traffic headache. [newsphoto.com.cn/file]

Traffic in Beijing will not be a headache at all but rather will become an enjoyable experience by 2008, vowed Liu Xiaoming, deputy director of the Beijing Municipal Communications Commission, in an interview with China Daily.

That goal will be reached without initiating any major ban on motor vehicles nor control over vehicle numbers over the next five years, Liu said.

"I am very confident that Beijing will fulfil its commitments to the world concerning transportation in 2008,'' said Liu, who is also a respected expert on urban communications research.

Effective traffic regulation methods that have been successful in other countries will be adopted. As well, a special plan is being designed to ensure that traffic speed for motor vehicles in peak traffic periods by 2008 will be ensured to maintain at least 20-30 miles per hour..

It is estimated that the number of motor vehicles in Beijing will increase to over 3.5 million by 2008 from the present 2 million, while the structure of the road grids in the city will be in need of significant improvement.

It is also a widespread worry that traffic in Beijing would continue to be a headache for all people concerned, from Olympic organizers and government officials to drivers, pedestrians and cyclists.

The number of motor vehicles climbed to 2 million in August, with Beijing residents experiencing more serious traffic jams than before in the latter half of the year, especially during rush hours and on rainy days.

"Congestion, which can not be avoided in the development of a metropolis, will be temporary for Beijing,'' said Liu, noting that the Chinese capital has stepped into an era of traffic congestion.

Liu's confidence for the improvement of the situation comes from the heavy investment and scientific layout of Beijing's transportation system to be carried out over the coming years.

The city will invest 35 billion yuan (US$4.2 billion) in infrastructural facilities for transportation in 2004, a 68 per cent jump in this area from last year, Liu's commission announced.

Priority will be given to traffic facilities in seven areas, including where the Olympic Green and previous Asian Games Village is located in the northern part of Beijing.

"When the National Stadium and the National Swimming Centre's construction began in late December, the area around the site of the previous Asian Games Village is facing more serious traffic conditions,'' Liu explained.

The area, a residential neighbourhood with sporting facilities in place, was listed as one of the city's 84 most congested areas, according to an announcement by the Beijing Public Security Bureau of Traffic Administration.

The official said his commission, which was established in February for the comprehensive management of communications issues while replacing the communications bureau previously in place, will make efforts this year on communications management in areas where construction of Olympic venues will be taking place.

Besides the four venues that broke earth last month, Olympic venue construction will reach a peak this year with the opening construction of five gymnasiums as well as the Olympic Village and the Wukesong Cultural and Sports Centre, which will no doubt put pressure on the city's transportation system.

"The negative influence will be reduced to a minimum,'' Liu vowed.

In order to update Beijing's communications system and relieve congestion, the public transportation system and urban railways in particular will be given priority for construction this year.

Public transportation only shoulders 24 per cent of the city's transportation needs, less than the 31 per cent accounted for by private cars and taxi cabs,, according to Liu. He said the percentage of people using public transportation will reach 60 per cent by 2008.

A total of five urban railway lines are expected to begin construction this year, including the light rail from Dongzhimen to Beijing's Capital International Airport.

The area covered by Beijing's urban railways has mounted to 114 kilometres with the city's fourth railway line the Batong Line opening to traffic last month. The amount of coverage will reach 300 kilometres in anticipation of the 2008 Beijing Olympic Games.

Meanwhile, the high-speed bus system will also start taking shape this year. The first such line from Qianmen Street to the southern section of the Fourth Ring Road will begin construction in May. Heavily congested Zhongguancun Street and Chaoyang Road are also being considered for services.

"The high-speed public transportation routes will reach 200 kilometres in length by 2008, and they will be connected with the subway,'' Liu said.

He said residents are encouraged to make less use of private cars and to take buses and the subway within the Fourth Ring Road, which is considered the city limits of Beijing proper.

"The transportation system out of the Fourth Ring Road could be supported by private car transportation,'' he said.

"It has become a common understanding for the Beijing municipal government that if it is not solved soon, the transportation issue will become a major obstacle to the city's development and the Olympics.

"But it is still not too late. Our efforts will lead to satisfactory transportation conditions by 2008,'' he said.