'Green card' to be introduced in 2004
( 2004-01-05 07:50) (China Daily)
China plans to implement a "green card" system, a long-term residence permit, in 2004.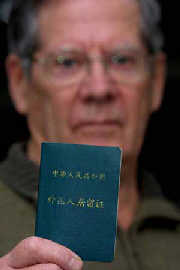 Residency permits for foreigners currently used in China may change under a new "green card" system. New rules, which are under consideration, would allow for long-term residency permits of up to five years. [China Daily]

Hoping to attract more senior experts and funds from abroad, regulations for permanent residence permits for foreigners have been mapped out by the Ministry of Public Security and related departments and sent to the State Council for approval, said a senior ministry official just before New Year's Day.

Under the new system, some foreigners living or working in China will not have to apply for visas when leaving and entering the country, as the government will allow foreigners holding senior positions to apply for residency permits in China.

The official, who did not want to be identified, said the regulations would apply to high-level foreign professionals, big investors and foreigners seeking to reunite with family.

Analysts have praised the move, saying it is another crucial step for the country to open to the outside world and attract more foreigners to its modernization drive.

Once the new system is fully implemented, foreigners who meet the government-determined requirements and returned overseas Chinese who have already resided in China for at least six months would be eligible to apply for a green card or long-term residency permits ranging from one to five years, the official said.

The system is different from green card systems in many countries which are residency permits and allow those who hold the same treatment as local citizens.

Even so, the new regulations will help loosen restrictions on foreigners working in China, said an official with the entry and exit office from the bureau of public security in Beijing.

There is also a growing call from foreign professionals to simplify entry and exit procedures and enjoy many of the rights local people have.

Of particular interest to many are the significant tax breaks and allowances permanent residents get.

For example, foreign persons holding green cards would be charged local rates for their children's education instead of the higher foreign rates. They would also enjoy similar citizen treatment when purchasing housing, autos and social insurance.

As early as 2001, the Ministry of Public Security's Exit and Entry Administration promised to implement a new green card system by the end of 2003.

With rapid economic growth, China's demand for overseas experts and specialists is also surging.

According to 2001 statistics more than 60,000 registered foreigners worked in the country. The actual number could be far higher than that.

The government has taken some measures to resolve the issues in line with international practices, experts said.

For example, 45 foreigners in Beijing -- including senior advisors, researchers and managers invited by the Chinese Government as well as professionals from foreign-funded companies -- received the country's first batch of long-term residence permits and multi-entry visas in February 2003, Xinhua reported.

These permits, allow three or five years' stay in China and don't need to be renewed annually, it said.

"The permits and visas only serve as a transition toward permanent residence permits," said Zhang Yindi, deputy-director of the Entry-Exit Administration

Besides foreigners, the green card system is also aimed at attracting overseas Chinese back to China, experts said.

The system will facilitate their return and allow them to retain their citizenship or permanent residency status elsewhere while living and working permanently in China.

Since China's reforms in 1978, approximately 300,000 people have left China for education overseas. About one third of these people have returned to China since then.

In the past two years, China has experienced a surge in returned Chinese.

A recent survey showed 80 per cent of overseas Chinese students prefer to start their careers at home. Moreover 60 per cent of those students would select Beijing as their first choice for future development, it said.

There are a total of 110,000 returned Chinese scholars in the capital. Besides, more than 40,000 have started their careers in Beijing.

Once fully implemented, the new system will significantly alter the current "Hukou system -- the household registration system by which a person's residency status determines his/her ability to obtain work, healthcare, education and housing -- which has governed people's residency rights since early 1950s.