Suspected SARS case may have rat link
( 2004-01-05 07:42) (China Daily by Zhang Feng)
Rats may prove to be the missing link in a suspected case of SARS (severe acute respiratory syndrome) first reported in Guangzhou, capital city of South China's Guangdong Province.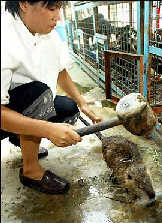 A kitchen worker hits a water rat on the head to stun it before it is killed for a meal in a restaurent in the southern Chinese city of Guangzhou.

A mutated strain of the deadly virus was diagnosed on a 32-year-old freelance television producer, making him the first suspected SARS patient on the mainland since last May.

However, health officials and top experts reached by China Daily yesterday cautioned that more laboratory tests must be done before any confirmation can be made.

New details surfaced when local Guangzhou media reported the patient had set traps for rats that had invaded his apartment before he showed SARS symptoms. Laboratory tests have shown that some of the rats caught in his apartment also tested positive for SARS.

However, this does not necessarily mean that the rats are the definitive source of the new strain of coronavirus, Liu Qiyong, an expert on epidemics from the Chinese Centre for Diseases Control and Prevention (CDC), said yesterday.

The result may have been caused by some other strain of coronavirus carried by the rats, since there is a slight difference from the kind that caused the SARS outbreak in human beings last spring, Liu said. In fact, other strains have been found in rats, as well as in other animals long before the new case emerged.

Liu and his colleagues have checked out more than 10 kinds of animals, including masked palm civets and rats over the past several months trying to identify the virus that has caused SARS. More work must be done to pinpoint one particular strain as the one that jumped to human beings, Liu said.

Liu's remark was echoed by Mao Qun'an, spokesman for the Ministry of Health, who told China Daily that scientists must do further research before they can answer questions such as how SARS was passed to human beings from animals or other sources.

Mao said Chinese experts generally tend to agree that samples from the Guangzhou man with positive SARS result in lab tests are conclusive that he has contracted SARS.

However, Mao and World Health Organization spokesman Roy Wadia both emphasized that experts from WHO are re-examining the results submitted by their Chinese counterparts, and their conclusion is expected to come out today or tomorrow.

However, some WHO experts have cautioned that, without obvious SARS connection like a wild animal or lab contamination, and without separating the virus from the man's body, it is still too early to confirm the case. The positive results are not enough of an indicator, they argue, because the man could have been infected last spring but, due to internally developing antibody, may not have shown any symptoms until now.