Info minister: 'Opening up' for news, too
( 2004-01-05 07:40) (China Daily by Qu Yingpu)
The State Council Information Office (SCIO) will make fresh moves this year to set up a three-tier government news-release system, Minister Zhao Qizheng told China Daily in a New Year's interview.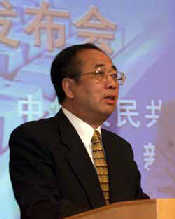 Zhao Qizheng [file/newsphoto]

The three-tier system will feature spokespersons for the State Council, all central government ministries and provincial-level governments, Zhao said in an exclusive interview.

The SCIO has mapped out a development plan and detailed measures to help install information dissemination mechanisms based on comprehensive research, Zhao indicated.

As part of the plan, officials will strengthen guidance on the effort nationwide and train more spokespersons from ministries and provincial governments this year to help increase the number, quality and authority of news conferences at the three levels.

"On top of all, we'll strive to see that SCIO press conferences are more frequent, standardized and focused on major national policies and tasks,'' Zhao said. "We hope to better address the needs of the domestic and foreign media, and ensure that press conferences are well planned and timely so that news value and reach are enhanced.''

Last year, the information office held 41 press conferences, addressing domestic and foreign reporters on important issues such as the renminbi exchange rate, SARS (severe acute respiratory syndrome) and Taiwan.

"(But) I'm not satisfied,'' Zhao said. "The number (of news conferences) is too small.''

As China's domestic policies attract increasing global attention, it is an "imperative task," the minister said, to increase the frequency and quality of the government's information dissemination efforts.

For instance, a decade or two ago, the valuation of the renminbi would not have been such a hot subject in the world as it is now.

"The global demand for Chinese information has increased greatly," Zhao noted.

Nor can China, or any country, seek a favourable international environment and global understanding for itself by relying on just the domestic media, he acknowledged.

He called on government information officers to treat journalists "decently".

Officials do not have the right to consider "journalists your subordinates, students, friends or enemies," he said. "They are your challengers -- like your challenger in a tennis game."

Journalists tend to raise pointed questions because that's what their profession is supposed to do, the minister stressed.

In the meantime, more frequent and substantial government news releases can appeal to the public interest, improve government transparency, and ensure China's stability and social progress, he said.

Efficient release of important or breaking-news events and major government decisions can also help avoid rumours, he said.

In a sign of things to come, Xinhua reported on Friday that police departments nationwide will begin issuing news releases and meeting with journalists to promote transparency.

Public security authorities at the provincial level and the ministry will hold press conferences once a month; and police at municipal level, once every fortnight. Police are also expected to hold press briefings to respond to breaking news.

Zhao said the SCIO's main task is to present a picture of the true China to the outside world.

The minister was appointed to his current post in April 1998 after serving as vice-mayor of Shanghai, China's economic hub, for about seven years. He is a native of Beijing and graduated from the Physics Department of the Chinese University of Science and Technology in 1963.

An efficient public news-release system is necessary, contrary to some local governments' belief that they don't need the system because of the limited number of foreign journalists staying in their provinces.

Domestic journalists' demand for government information should also be treated as important, he stressed.

Providing timely public information access is a responsibility of the government, and it should not be bestowed as a favour to the people, said Zhao.

Regular press conferences first started in China in 1983 by the Foreign Ministry to explain the Chinese Government's stance and policies concerning major domestic and foreign issues. Other ministries, including the National Bureau of Statistics, followed suit.

The outbreak of SARS last spring greatly enhanced the improvement of the mechanism. To date, almost all central government ministries and more than a dozen provincial and municipal governments, including Beijing, Shanghai and Guangdong, have established a news-release mechanism.

The office started training spokespersons for ministries and provincial governments in September 2003, and two training programmes have been completed for 177 new spokespersons.

The programmes, using case studies and practical exercises, invited senior government spokespeople and specialists from universities to give lectures on news releases, public relations and language skills.

"Because of the limited understanding of China by foreigners," Zhao said, "we are willing to establish partnerships with some overseas media, and we hope to see better, objective and fair foreign media reports on China".

He also noted the Chinese media industry is changing to better satisfy the needs and interests of its audiences and is paying more attention to marketing and profits following China's WTO entry.

Domestic media "have been playing an increasingly big role in `supervising' the work of the government in the last few years," Zhao observed in encouragement.

While promoting the establishment of large domestic media groups, Zhao said, China has already opened the business operation of websites and distribution of print-media products to foreign investors.