97-year-old quake victim rescued in Iran
( 2004-01-04 11:08) (Agencies)
For nearly nine days after an earthquake demolished her city, 97-year-old Sharbanou Mazandarani lay trapped under furniture and crumbled masonry, passing fear-filled days and cold nights with death all around.
But with nearly a century of life behind her, Mazandarani was not ready to give up. And on Saturday, elated rescuers pulled her out of the rubble alive ¡ª and amazingly, unhurt.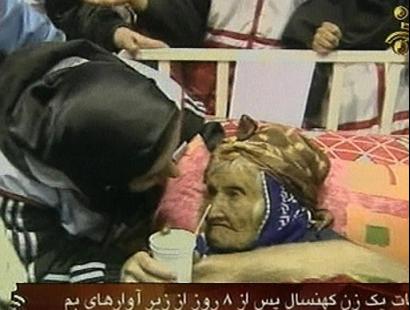 Sharbanou Mazandarani, right, looks towards a medic after she took a drink from a cup at a hospital in the Iranian town of Bam in this image taken from television, Saturday Jan. 3, 2004. [AP]

"God kept me alive," the petite, wrinkled Mazandarani said as she lay on a bed in a makeshift hospital in Bam, covered to her chin with a blue blanket and a brown print scarf tied around her head.

Rescuers said she asked for a cup of tea soon after her rescue ¡ª and then complained it was too hot to drink.

Normally people can survive up to three days in the rubble of an earthquake. It was unclear whether Mazandarani had food or water while she lay trapped under the ruins.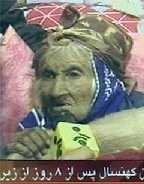 In this television image, Sharbanou Mazandarani, 97, speaks with a reporter Saturday at a hospital in Bam, Iran. She was found by a rescue dog eight days after the earthquake struck. [AP]

Search dogs located Mazandarani under a collapsed building and it took three hours of digging to recover her.

"No one expected her to be alive. It's a miracle," provincial government spokesman Asadollah Iranmanesh said.

Her rescue was not the only bright spot in the aftermath of the Dec. 26 quake: On Saturday U.S. doctors said they had delivered four babies at a makeshift hospital.

Meanwhile, the death toll rose to about 35,000, Brig. Gen. Hoseyn Fat'ahi of the Islamic Revolution Guards Corps told Iran's official news agency. He said the injured numbered 17,000.

Figures for the overall dead have varied according to differing estimates of the number of bodies still under the rubble and thousands of unregistered burials.

A situation report by the U.N. Disaster Assessment Coordination Team warned that many survivors were suffering from psychological disorders after the deaths of their loved ones and the destruction of their homes.

"Post-traumatic stress disorder is highly prevalent," the U.N. report said. On Friday the U.S. field hospital operated on a young Iranian soldier who tried to commit suicide by shooting himself after discovering the quake had wiped out his family.

"If we don't pay the best attention to this, it will lead to more cases of depression, suicide and other mental health problems," said Dr. Mohammad Farojpour, the head of Kerman province's mental health department.

French and German aid groups were flying in a total of 130 psychologists and psychiatrists to counsel survivors, the U.N. report said. The Iranian Red Crescent Society has already deployed 40 women counselors to Bam.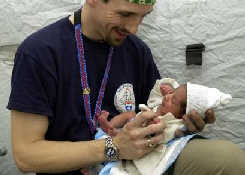 Patrick Kadilak, pediatric nurse practitioner from Boston, smiles as he checks baby girl Moalla Kurbani at the American field hospital in the earthquake-ravaged city of Bam, southern Iran Saturday Jan. 3, 2004. Moalla was born at the American hospital on Friday night and her earthquake survivor mother Maryam Kurbani is at the hospital's intensive care service. [AP]

The 6.6-magnitue quake damaged beyond repair as much as 85 percent of Bam's houses and buildings, the report said. Camps of tents with heating are being erected around the city, U.N. officials said. Up to now, the homeless have been living in unheated tents set up amid the ruins.

Farojpour said that among the many things disrupted by the quake was the supply of opium to the city's addicts. Before the temblor, an estimated 20 percent of people over the age of 15 in a population of 80,000 were believed to be addicted.

Methadone, codeine and sterile syringes were being given to drug addicts, Farojpour said.

The United Nations (news - web sites) plans to complete within four days an assessment of the city's needs for water, sanitation, food and shelter. The facts are to be presented in an appeal to international donors.

At least five or six countries, including the United States, are working on the review with the United Nations.

Bill Garvelink, head of the U.S. relief team in Bam, has said the destruction was worse than any quake-zone he had ever seen.

"It's incredible," Garvelink said. "Bam is literally a rubble pile. I haven't seen any business functioning and you don't see anybody living in their homes."

On Friday, Iran's state radio, which is controlled by conservatives, accused President Bush (news - web sites) of interference in Iran. Bush had said he was glad Iran accepted U.S. assistance, but said its government must embrace democratic reforms and turn over its detainees from the al-Qaida terror group. Iran says its handling of the al-Qaida detainees is an internal matter.

The U.S. team in Bam has been generally well received by local doctors and citizens. Washington and Tehran have had no diplomatic relations since militants seized the U.S. Embassy in the Iranian capital in 1979.