US GI dies as copter shot down in Iraq
( 2004-01-03 09:15) (Agencies)
Insurgents shot down a U.S. helicopter west of Baghdad on Friday, killing one soldier, and U.S. forces said they came under fire with assault rifles and rocket-propelled grenades as they guarded the burning aircraft.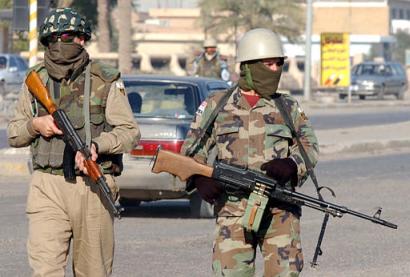 Iraqi Civil Defense Corps (ICDC) members cover their faces with scarves, during a joint patrol with U.S. Army soldiers from the 4th Infantry Division in Saddam Hussein's hometown of Tikrit, north of Baghdad, Friday, Jan 2, 2004. Some ICDC members cover their faces for fear of being recognized, and targeted by insurgents attacking Americans and their Iraqi allies. [AP]

The military said the attackers who fired at U.S. forces after the crash near Fallujah were posing as journalists. But there was confusion over the claim, since the Reuters news agency reported that U.S. troops fired at its journalists at the scene and later detained three.

Elsewhere, Arab gunmen shot and killed a Kurd amid rising ethnic tensions in the northern, oil-rich city of Kirkuk, and a Baath party official was assassinated in an apparent revenge killing in Mosul. An American tanker truck was set ablaze in western Iraq, and coalition forces raiding a Baghdad mosque arrested 32 suspected insurgents and seized an arms cache.

U.S. Army Brig. Gen. Mark Kimmitt said enemy fire likely downed the OH-58 Kiowa Warrior that crashed near Fallujah, a flashpoint in the insurgency.

Troops of the 82nd Airborne Division "are fairly convinced that it was enemy fire," said Kimmitt, who was in Baghdad.

Soon after, five men "wearing black press jackets with 'press' clearly written in English" fired on U.S. paratroopers guarding the crash site, Kimmitt said. He said it was the first time he had heard of assailants in Iraq posing as journalists.

Reuters said a team led by Iraqi cameraman Salem Uraiby was filming the crash scene from a checkpoint using a camera on a tripod and was wearing a flak jacket marked "press."

"We were fired on and we drove away at high speed," driver Alaa Noury said. He said a second car driven by another Iraqi journalist had been fired upon in the same incident. One of the cars remained in Fallujah, Reuters said.

Kimmitt said attackers in two cars fled the scene and that soldiers doing a sweep through the town, with helicopters circling overhead, tracked down one of the cars and arrested four "enemy personnel."

If attackers are indeed posing as reporters, genuine journalists could be in danger, said Robert Menard, secretary general of the Paris-based media freedom group Reporters Without Borders.

He urged the military to respond by reminding its troops to exercise caution and ensure that reporters are not targeted.

"If this is correct, it's terribly dangerous for journalists, because it will mean that one could imagine that a fighter is behind every journalist," Menard said in a telephone interview.

Ann Cooper, executive director of Committee to Protect Journalists, echoed those remarks.

"It greatly increases the risks for the journalists working there, and Iraq is already an extremely dangerous place," she said. "We need the journalists there to be able to cover the news. If actions like this blur their status as neutral observers, that's very serious."

Rebels have previously shot at and brought down U.S. helicopters elsewhere in the so-called "Sunni Triangle," the heartland of Saddam Hussein (news - web sites)'s support and a center of resistance to the U.S.-led occupation.

In the deadliest single attack on U.S. forces since the Iraq invasion began in March, 17 soldiers were killed on Nov. 15 when two Black Hawk helicopters collided above Mosul in what the military called a likely grenade attack.

Late Friday, explosions boomed in Baghdad from U.S. military bombing on the southern edge of the capital. A spokesman said the bombing was part of Operation Iron Grip, a campaign to target insurgents who have launched rockets and mortar shells.

Residents of the outlying neighborhood of Doura said it appeared U.S. fire was targeting fields there. Bordered by date palm farms, Doura includes the homes of former officials of Saddam's government and a palace now used as a U.S. military base.

Earlier, people protested outside Baghdad's Ibn Taymiyyah mosque Friday after U.S. soldiers and Iraqi defense force officers raided the mosque overnight.

Kimmitt said troops seized explosives, guns and ammunition and arrested 32 people believed to be non-Iraqi Arabs "based on their dialect." The military says foreign Islamic militants opposed to the occupation have infiltrated from neighboring borders.

In the northern city of Mosul, a minor Baath Party official and Saddam-appointed dean of political science of Mosul University, Adel Jabar Abid Mustafa, was found dead Thursday with two gunshots to his head, according to his brother.

Gunmen in Mosul have killed at least three judges appointed by Saddam's regime, as well as officers in a new Iraqi police force formed by the U.S.-led occupation.

Also Friday, a truck traveling toward Baghdad International Airport flipped on its side, killing one soldier and injuring six others, the military said.

A 5,000-gallon oil tanker erupted in flames near a U.S. military base on the road to the western town of Ramadi on Friday. The military said the tanker was in a convoy attacked by a roadside bomb, a grenade and small arms fire. Three American soldiers suffered burns and shrapnel wounds.

U.S. military commanders say rebel attacks on troops have decreased since Saddam's capture Dec. 13, but that insurgents may be shifting to civilian targets. On New Year's Eve, a car bomb destroyed an upscale Baghdad restaurant, killing eight people.

In raids to hunt down former Saddam officials, U.S. soldiers captured Abu Mohammed, believed to be moving foreign fighters and cash through a tense area west of Baghdad, the military said Friday. Based on information gleaned from the arrest Thursday, the military seized another three suspects and some weapons.

In Kirkuk, Arab gunmen killed one Kurd and wounded another on Thursday night as they were walking in an Arab neighborhood, Police Chief Gen. Turhan Youssef said.

Afterward, there was a shootout between Arabs and police, who killed two attackers and wounded several, said Jalal Jawher, local head of the Patriotic Union of Kurdistan party.