Week on, Iran mourns quake that 'made world cry'
( 2004-01-02 09:25) (Agencies)
A man, a child and a pregnant woman were saved from the rubble of the Bam earthquake which struck a week ago on Friday, but mourning eclipsed hope.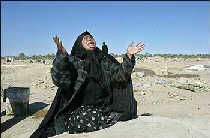 A woman cries during a funeral for killed relatives at the cemetery in the earthquake stricken southeastern Iranian city of Bam.

Piercing the gloom of devastation in the Iranian city, rescue workers reached the "miracle" survivors on Thursday despite what experts say are long odds of survival beyond 72 hours without food or water in such conditions.

Six others had been found since Tuesday in the ruins of the quake which measured 6.8 on the Richter scale and struck at around 5:30 a.m. (0200 GMT), directly beneath Bam while most of its 103,000 people were asleep.

At least 30,000 people died and government officials have said the final toll may reach 50,000, making it one of the world's worst disasters of recent decades.

"It caused the whole world to cry," said Iran's influential former President Akbar Hashemi Rafsanjani at a mourning service in Bam, 1,000 km (625 miles) southeast of the capital Tehran. "The world will always remember Bam."

The ancient city was still in turmoil.

Stunned survivors huddled against the cold in tents or on streets and searched the ruins for friends and families, as 29 significant aftershocks in the last week kept people on edge.

Aid from some 50 countries has flooded in to help the stricken area, with one side-effect that relations between Iran and the United States appeared to be moving onto a more friendly footing after years of hostilities.

Iranian officials hinted on Thursday that U.S. aid to earthquake victims may have eased decades of mistrust.

Rafsanjani told reporters recent developments may have an effect on U.S. relations. President Mohammad Khatami's brother went further, implying the U.S. response to the quake might lead to an unspecified reciprocal gesture from Iran.

"We're evaluating the American government's positive behavior and I'm sure that goodwill will be answered with goodwill," said Mohammad Reza Khatami, deputy parliament speaker and Khatami's younger brother.

Washington broke ties with Iran shortly after the 1979 Islamic revolution and dubs it part of an "axis of evil."

But it has sent scores of relief workers to Bam and tonnes of aid to Iran, temporarily eased some sanctions on the Islamic Republic to speed the delivery of humanitarian relief, and hinted of a willingness to resume some dialogue with Tehran.

U.S. President Bush said on Thursday he appreciated Iran's willingness to accept U.S. humanitarian aid flights but urged Tehran to abandon nuclear weapons and turn over members of al Qaeda in its custody.

In Bam, survivors tried to come to terms with the destruction of their city, where the death toll was so high because 90 percent of its mud brick buildings quickly collapsed.

"A teacher married to another teacher used to live here with their three little boys," said one girl who lived down the road, pointing to the wreckage of one house. A handwritten note on a tree outside read: "The bodies were removed from this house."

Broken toys, such as a badly bent miniature bus, an English lesson book, children's drawings and a crushed casserole dish on top of a stove were some of the reminders of lives snuffed out in the house the girl said was built just last year.