Bullish market expected in 2004
( 2004-01-02 01:37) (Xinhua)
China's individual investors who have suffered a bear market for the last three years have become more optimistic and are looking forward to a better year in 2004.
"This year's stock market will be better than the last as the market is showing signs of an upward trend," said Yang Huaiding, known to many Chinese investors as "Millionaire Yang", for his legendary success in the newly-opened Chinese stock market in the early 1990s.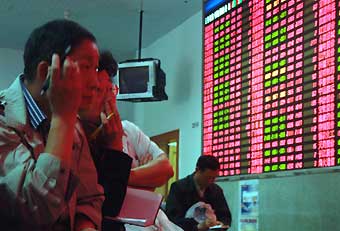 Two stockholders chat in a stock exchange in Shanghai in this undated file photo. [newsphoto.com.cn]


Yang, a native of Anhui Province, moved to Shanghai after making a fortune on the Shanghai Stock Exchange, where the shares of the country's first eight listed companies witnessed thousand- fold price rises in the first five years.

"Listing companies reported good performances in the third quarter of 2003, while economic results for the whole of 2003 may turn out to be quite favorable," Yang said. The prices of many stocks are now at their lowest, indicating that the bear period has come to and end, he said.

Feng Jia'an, a small investor who lost 20,000 yuan (about US$2,400) last year, said the loss did not affect his enthusiasm for the stock trade and he is expecting a good return in the new year.

According to a report by Huaxia Securities Institute, the average 20 per cent decrease in stock prices last year leaves plenty of room for investors to profit next year.

In 1990, China opened its first stock exchange in Shanghai, the country's industrial and financial center, and in 1991, the country set up its second bourse in Shenzhen, the country's first special economic zone.

So far, more than 1,000 local companies, mostly state-owned, have been listed in the two stock exchanges, with a total capitalization of 1.5 trillion yuan (about US$180 billion). Investors have opened 60 million accounts at the two exchanges.

Since 2001, China's stock market has experienced a chilly " winter", deprived numerous individuals of their hard-earned money, and forced a number of local securities dealers onto the brink of bankruptcy.

Meanwhile, a series of scandals about listed companies engaged in false financial reports or other fraudulent activities further irritated domestic investors. Some angry investors sued manipulators.

In 2003, to smoothen investors' anger and revive the sluggish market, the government issued policies in an attempt to start up the market. Dozens of new investment funds were set up and insurance companies were allowed to invest in the stock market for the first time.

Moreover, a number of overseas banks were granted QFII (qualified foreign institutional investors) status, and for the first time, foreign banks were allowed to invest in A-share trading, which was previously limited to domestic buyers only.

China's stocks are also classified as B-share, for overseas investors to buy stock on the Shanghai and Shenzhen exchanges, H- share for mainland companies listed in the Hong Kong stock market, and S-share for Chinese companies listed in Singapore, and in European and United States markets.

A few days ago, the National Information Center and Shanghai Securities News issued a joint report, concluding that China's stock market has become promising owing to a favorable state policy, the upward trend of economics development and the improving performances of listed companies. Hu Yongnai, who was also among the first individual investors in Shanghai, read the report three times.

"As an ordinary individual investor, I'm happy to see that listed companies are making gains and China's securities market is improving as a whole," he said. "China's stocks have become worthwhile once again after three bearish years, and our dream to see a bullish 2004 may come true."