China angry at Koizumi's shrine visit
( 2004-01-01 23:45) (China Daily)
Japanese Prime Minister Junichiro Koizumi sparked anger Thursday with another visit to the controversial Yasukuni shrine, which honours 14 of the country's notorious war criminals, among the nation's 2.47 million war dead.
Huang Xingyuan, a spokesman at the Chinese Embassy to Tokyo, expressed strong dissatisfaction over Koizumi's visit, his fourth since he became prime minister in 2001.
Huang urged the Japanese Government to completely abide by the three key bilateral agreements and statements and to stop further activities which will harm the feelings of the Chinese people and damage Sino-Japanese relations.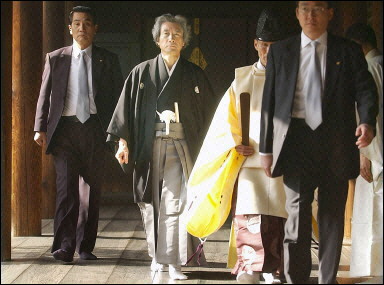 Japanese Prime Minister Junichiro Koizumi (2nd L) follows a Shinto priest, dressed in a white and yellow robe, on a surprise visit to the controversial Yasukuni shrine that prompted angry reaction from China and South Korea. [AFP]


Class-A World War II criminals, 14 of whom who played a role in Japan's brutal war of aggression against China from 1937 to 1945, are honoured at the shrine.

Koizumi's previous visits to the shrine drew strong protests from Asian countries that had suffered from Japanese military invasions.

The visit also came under fire in Japan from the nation's opposition parties.

"It was an act that emphasizes a personal belief and will damage the national interest. This is irresponsible behavior toward the people," Kyodo News quoted Naoto Kan, leader of the Democratic Party of Japan, the nation's largest opposition party, as saying.

Tadayoshi Ichida, head of the secretariat of the Japanese Communist Party, said: "Going to worship at Yasukuni Shrine, which is a symbol of a war of aggression and the promotion of militarism, is definitely unacceptable.

"For other Asian countries, it means Japan is continuing not to reflect on its past and criticism will be inevitable," Kyodo quoted Ichida as saying.

Seiji Mataichi, secretary-general of the Social Democratic Party, said: "I must say it was inappropriate behaviour which fails to see the truth about the invasions," according to Kyodo.

He said that as Japan is seeking co-operation from China and the Republic of Korea (ROK) in solving the Democratic People's Republic of Korea (DPRK) nuclear issue, such behaviour would worsen relations with both countries and was "incomprehensible."

China, the DPRK, the ROK, the United States, Russia and Japan held six-party talks in August in Beijing, seeking peaceful solutions to the DPRK's nuclear programme. The DPRK recently expressed its willingness to attend a second round of nuclear talks early this year.

The DPRK has slammed Koizumi's previous visits to the shrine. Following his visit in January last year, the DPRK said Koizumi's behavior was against the spirit of the DPRK-Japan Pyongyang Declaration and that relations between the two states can never be normalized unless Japan's previous wrongdoings are addressed.