Beijing offers Straits travel initiatives
( 2004-01-01 08:46) (China Daily by Xing Zhigang)
Beijing has launched a charm offensive to win the hearts of mainland-based Taiwanese investors and their families amid simmering cross-Straits tension.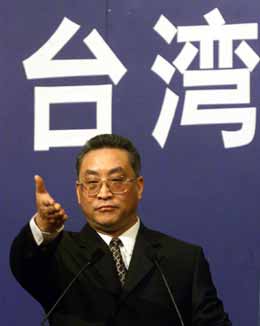 Zhang Mingqing invites questions from reporters at a news conference in Beijing. [file/newsphoto]

Yesterday, transport officials announced several measures to make it more convenient for such people to return to the island for family reunions during the upcoming Chinese Lunar New Year.

The move, announced by the State Council's Taiwan Affairs Office, looks to highlight Taiwan leader Chen Shui-bian's indifference to the island's business community.

The election-obsessed leader, who has been preoccupied with political attempts to provoke the mainland, has come under constant fire for ignoring the immediate interests of the public.

Although the mainland-based office's spokesman Zhang Mingqing strongly accused Chen of fanning anti-mainland sentiment to win votes in "presidential" elections, he stopped short of threats to retaliate with tough action. But he condemned the Taiwan leader for his proposal of waging "a holy war" against the mainland.

Chen reportedly told a campaign rally in southern Taiwan on Saturday that the March 2004 elections are "a holy war" for the Taiwanese people against the mainland.

"He unscrupulously fuelled Taiwan compatriots' anti-mainland sentiment for his own selfish election interest," Zhang said.

"His act was extremely immoral as it goes against the aspirations of mainstream Taiwan compatriots for peace, stability and development, and endangers their fundamental interests."

Also at the press conference, a senior official with the General Administration of Civil Aviation of China (CAAC) spoke of compromise in an attempt to save a proposed across-Straits charter flight plan from going under.

Pu Zhaozhou, director of the CAAC's Office of Taiwan, Hong Kong and Macao Affairs, said Beijing is willing to consider withdrawing its demand for the participation of mainland airlines in the charter flight programme for the upcoming Spring Festival.

The mainland is ready to let only Taiwanese airlines operate the charter flights "as long as the Taiwan authorities promise to allow the participation of mainland carriers next time and permit direct charter flights without stopovers in a third place," he stressed.

The charter flight arrangement has hit a snag as Taipei has insisted that they be indirect, while also rejecting the participation of mainland airlines.

Pu said the CAAC has decided to arrange extra flights to fly Taiwan investors and their family members home via Hong Kong and Macao during Spring Festival, just in case the offer for compromise is turned down.

As many as 1 million Taiwanese business people and their families are estimated to live and work on the mainland and about 300,000 generally return to the island each Spring Festival.