Chen's "holy war" against mainland condemned
( 2003-12-31 16:37) (chinadaily.com.cn)
Beijing condemned Taiwan leader Chen Shui-bian on Wednesday for waging a "holy war" against the mainland, calling him immoral and accusing him of fanning anti-Beijing sentiment to win votes in "presidential" elections.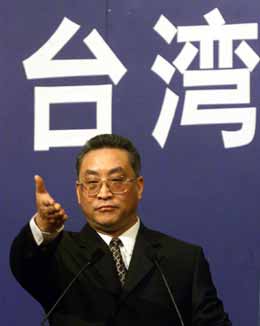 Zhang Mingqing invites questions from reporters at a news conference in Beijing. [file/newsphoto]

Newspapers in Taiwan quoted Chen as telling a campaign rally in southern Taiwan on Saturday, the March 2004 elections were a holy war by the Taiwan people against the Chinese communists.

"He unscrupulously fanned Taiwan compatriots' anti-mainland sentiment for his own selfish interest and for the elections," Zhang Mingqing, spokesman for the State Council Taiwan Affairs Office, told a news conference.

"This goes against the will of Taiwan compatriots to seek peace, stability and development," he said. "This is extremely immoral."

Tension has been simmering since Taiwan passed a controversial bill in November allowing referendums, which is a cover for separatist elements on the island.

In Taipei, Chen ignored US warnings and signed the bill into law on Wednesday as expected.

"Today is a historic day," Chen said in a statement. "Our dream has come true."

US President George W. Bush bluntly warned Taiwan this month against unilaterally changing the status quo with the Chinese mainland, pouring cold water on Chen's drive to hold a referendum.

Washington switched diplomatic recognition from Taipei to Beijing in 1979, but remains the island's main arms supplier and trading partner.

Zhang accused Chen of "deceiving" the Taiwan public and the international community by reneging on a pledge he made in his May 2000 inaugural speech not to hold a referendum on reunification versus independence.

Facing a tough re-election battle, Chen has made his provocative claim that Taiwan and the Chinese mainland are separate countries a cornerstone of his campaign, aiming to shore up support from pro-independence voters.

Chinese mainland announced this month the arrest of 24 suspected spies from Taiwan and 19 accomplices from the Chinese mainland, one of the biggest espionage scandals since 1949.

Despite tension, investment, trade and tourism have blossomed since the late 1980s. Taiwan investors have poured up to US$100 billion into the mainland, lured by low land and labour costs and a common language and culture.

Zhang also said time was running out to charter flights between the mainland and Taiwan during the Lunar New Year holidays in January.

Taiwan has banned direct air and shipping links with the mainland since 1949.