Iran quake toll may hit 50,000
( 2003-12-31 09:46) (Agencies)
"If we consider that, on average, five people lived in each house we can say the death toll will reach 50,000," a senior Interior Ministry official said, sharply raising the projected tally from the nearly 30,000 already buried.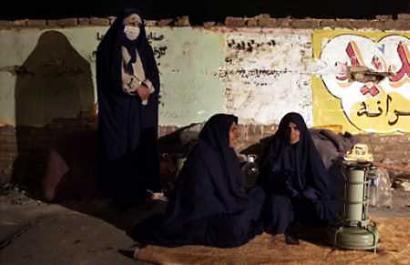 Iranian women made homeless by Friday's earthquake gather on the street in Bam December 30, 2003. The death toll in Iran's earthquake could jump to 50,000, officials said on Tuesday, as relief workers pleaded for more aid for survivors of one of the deadliest natural disasters of modern times. [Reuters]

Residents in Bam, 600 miles southeast of Tehran, said some children who survived Friday's quake had died in the bitterly cold nights.

With 90 percent of Bam's buildings damaged, according to U.N. estimates, tens of thousands are now sleeping in the open.

"Two children from my family, 12 and 13 years old, survived the earthquake, but they died from exposure while out on the street some time on Friday night," one middle-aged woman said.

Another senior official confirmed the forecast of 50,000 deaths, though President Mohammad Khatami called it premature.

"We should wait until the rescue work and all the activities in Bam are finished," Khatami told reporters in nearby Kerman, saying the present toll was "definitely not 50,000."

Such a figure could make the earthquake the most lethal since one at Tangshan in China that killed at least five times that many in 1976.

Friday's tremor, which measured 6.3 on the Richter scale, struck just before dawn, killing entire families as they slept.

"Instead of Bam we now have ruins and deep sorrow," Khatami said, adding he had instructed the Housing Ministry to produce a report in 10 days on Bam's seismological faults and plans for rebuilding the ancient Silk Road city.

State television said the government had earmaked about $410 million for reconstruction.

"I CAN'T FIND MUMMY"

Aid agencies say around 100,000 people are homeless and are appealing for warm clothing and blankets.

Around 30,000 people were injured. Television broadcasts showed one girl, aged about six, lying in a hospital bed with tubes attached to her nose and a bandaged head.

"I want to show my dolls to my mummy and tell her what has happened to us. But I can't find my mummy," she said.

Experts said Bam's mud-brick buildings did not leave the air pockets that occur when modern concrete structures collapse and their dust would have suffocated survivors.

Khatami said he had ordered an investigation into why government buildings, including hospitals, had also crumbled. "Those who are to blame will be severely punished," he said.

The disaster prompted swift pledges of aid, which Khatami said showed "a spirit of humanity and kindness is alive."

Even nations with poor ties with the Islamic Republic joined the aid effort.

Washington, which has labeled Tehran part of an "axis of evil," has sent eight planeloads of medical and humanitarian supplies as well as several dozen relief experts.

U.S. military planes, which began arriving at the weekend, were the first to land in Iran for over 20 years.

A senior U.S. official said President Bush (news - web sites) was considering opening dialogue with Tehran, and that the American role in the relief effort had helped hasten ongoing discussions within the Bush administration about its policy on Iran.

"The earthquake kind of brings it to a head," the official said, adding: "The burden is on the Iranians."

Khatami, however, played down the U.S. aid.

"This has got nothing to do with political issues," he said. "The problems in Iran-U.S. relations are rooted in history."

Rob MacGillivray, emergency adviser for Save The Children, said healthcare was a priority. Blankets, children's clothes, soap, cooking sets and large cans for drinking water were also badly needed.

Foreign Minister Kamal Kharrazi appealed for donor countries to send pre-fabricated and temporary housing for survivors.

"Now that the emergency situation is almost ending, the issue is to provide people with shelter," he said.