Fireworks blast in Liaoning kills 38
( 2003-12-30 00:50) (China Daily)
Death toll in the blast that ripped through a fireworks factory in Tieling, Northeast China's Liaoning Province has risen to 38, China Central Television (CCTV) reported.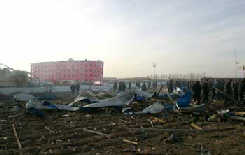 The scene of the tragic explosion at a fireworks factory in Tieling, Northeast China's Liaoning Province, on Tuesday, Dec. 30, 2003, which killed 35 people, injured several others and totally destroyed the plant. [Newsphoto.com.cn]

The powerful explosion, which took place at a fireworks factory in Shuangmiaozi, a town located in the city of Tieling, also left several people hospitalized.

The accident happened at about 10 am Tuesday, completely destroying the factory.

"Houses about 100 metres from the factory were damaged by fires caused by the explosion," the Xinhua News Agency quoted a local witness as saying.

Deputy Director of the State Administration for Safe Production Supervision Wang Xuede headed a team of officials and experts to the scene of the accident, and joined the local public security bureau and supervision department for a further investigation.

"The real cause of the explosion remains unknown," said a local police officer.

Initial investigations indicated that the factory has no fireworks production license.

The blast occurred less than one month before the Spring Festival, which starts on January 22, when many people in China will celebrate the festival by setting off firecrackers, though some big cities like Beijing and Shanghai have banned firecrackers for many years.

China has witnessed increasing numbers of firework-related accidents this year.

Official statistics show that in the first nine months of this year, a total of 98 such accidents happened across the nation, killing 209 people.

This was an increase of 21 per cent and 41.2 per cent respectively compared to the same period last year.