Activists to defend Diaoyu Islands
( 2003-12-30 09:24) (China Daily)
More than 30 activists from the Chinese mainland, Hong Kong, Taiwan and other parts of the world held a three-day forum in Xiamen, a city in East China's Fujian Province, to show their firm determination to defend the Diaoyu Islands.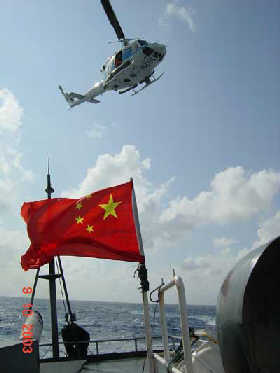 A Japanese helicopter hovers above as a boat carrying Chinese activists from the mainland, Taiwan and Hong Kong heads for the Diaoyu Islands to proclaim China's sovereignty over the disputed territory October 9, 2003. The vessel was blocked by Japanese ships and copters, and a severe collision damaged the vessel. The activists returned safety Saturday. [newsphoto.com.cn]

People attending the forum, which ended on Sunday, also passed a declaration, advocating "safeguarding the territorial integrity of China and carrying forward justice."

Japan claimed the Chinese island chain in 1895 after a war with China, then under Qing Dynasty (1644-1911) rule. Today it continues to tightly control access to the area.

Since 1971, various Chinese organizations across the world have launched drives to defend the Diaoyu Islands, according to activist Gao Xiongfei, an associate professor at Zhejiang Education College.

The editor-in-chief of China918. net, Wu Zhukang, told China Daily yesterday that the purpose of passing the declaration is to ensure the legitimacy of defending the Diaoyu Islands.

He said that they are planning to establish a non-governmental association for defending the Diaoyu Islands.

Activists attending the forum said that they support the Chinese Government's sovereignty stance on the Diaoyu Islands.

They also said they would restrict their activities within the scope allowed by the law.

So far, there is no official reaction to the forum, but the Chinese Government reiterated earlier that the island and its adjacent islets "have been an integral part of China's territory since ancient times."