Kabul suicide attack kills five
( 2003-12-29 10:24) (Agencies)
Five Afghan security officials were killed in Kabul on Sunday when a suicide bomber they detained blew himself up, overshadowing a crucial debate that will finalize the country's post-Taliban constitution.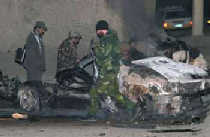 Afghan policemen investigate the charred remains of a car after an explosion near Kabul International Airport December 28, 2003. [Reuters]

Remnants of the ousted Taliban, believed to have links with militants including al Qaeda, have vowed to disrupt a constitutional Loya Jirga or Grand Assembly in Kabul as part of a "holy war" on foreign forces and the U.S.-backed government.

Witnesses at the scene of Sunday's attack near the city's airport said the car in which all six men had been sitting was gutted. Body parts were strewn across the ground.

"Altogether six people were killed," said a Defense Ministry official.

"We believe Dr Jalal, head of (Defense Minister Mohammad Qasim) Fahim's personal security, was killed when the terrorist that was caught set off explosive devices he had attached to his body. The bodies are beyond recognition."

Police did not say why they had detained the man.

Instability is undermining support for the 12,000-strong U.S.-led force in Afghanistan and for President Hamid Karzai himself, with assistance missions to hundreds of thousands of Afghans suspended in the south and east.

A spokesman for the 5,700 peacekeepers of the International Security Assistance Force in Kabul said the blast appeared to have been caused by a car bomb rather than explosives wrapped around the bomber's body.

All 502 delegates, more than 100 of them women, gathered at the Loya Jirga's giant white tent on Sunday for a final debate on amendments to a draft constitution proposed by a private committee whose work has dragged on longer than expected.

The session was shortlived, however, after delegates refused to discuss changes to the draft without seeing them in print. The assembly is due to resume on Monday.

PRESIDENTIAL POWER AT STAKE

The most contentious issue during two weeks of occasionally rowdy debate has been sweeping presidential powers outlined in the draft, which paves the way for the country's first democratic elections in June next year.

President Karzai, Washington's favorite, wants it left that way, keen to avoid a repeat of previous leadership struggles that triggered bloody internecine fighting and paved the way for the Taliban's ascendancy in the mid-1990s.

But members of the Northern Alliance faction of Tajiks and Uzbeks want a greater say for parliament and the introduction of a prime minister to dilute the president's influence.

A Western official familiar with the debate said that a middle ground may have been found.

"I think the (amended) text provides for a relatively strong presidential system but also it has enhanced the power of parliament to some degree," he told reporters.

The standoff has underlined concerns among ethnic minorities that the largest Pashtun group, from which Karzai comes, would dominate politics as it has done in the past and that provinces would not be given sufficient autonomy.

"It is not simply a question of northern...parties concerned about losing power," said Vikram Parekh, Afghan analyst at the International Crisis Group think-tank.

"There is also a fear on the part of many delegates from the north that a strong center is going to be a vehicle for the restoration of Pashtuns' domination at the center. That in the end may make Karzai's task harder."