Iran's hope fades for quake survivors
( 2003-12-29 08:50) (Agencies)
Hopes of finding more earthquake survivors in Iran's ancient city of Bam faded Sunday as the sharp, foul smell of death permeated the pulverized rubble where mud-brick houses became instant tombs for more than 20,000 people.

An Iranian woman covers her face with a scarf from the smell as she walks past a destroyed house in the heart of the ancient city of Bam December 28, 2003. The stench of death filled Iran's earthquake-devastated city of Bam on Sunday and fears of epidemics and looting grew as hopes dwindled for those still buried by a disaster that killed 22,000 people. [Reuters]

Rescue workers from around the world joined Iranians in searching through powdery debris that left little room for air pockets, which could allow people to survive while awaiting help.

More than 20,000 bodies, including one American killed while visiting the city's 2,000-year-old citadel, have been retrieved since Friday's 6.6-magnitude earthquake shook the city and surrounding region in southeast Iran, a local government spokesman said.

Another 10,000 people were hospitalized, the spokesman Asadollah Iranmanesh said. Other officials have expressed fears that the death toll could rise as high as 40,000.

Only one man was pulled alive from the rubble Sunday, Iranmanesh said. A day earlier, officials reported freeing 150 survivors.

"We have not lost hope for survivors, and our priority remains to find them," Interior Minister Abdolvahed Mousavi Lari said.

Later, he told reporters that the search for survivors would probably end Monday night: "Tomorrow is the last hope."

Experts say that 72 hours is generally the longest people can survive if they are trapped in rubble. Sunrise Monday is Bam's 72-hour mark.

Planes from dozens of countries landed in the provincial capital of Kerman with relief supplies, volunteers and dogs trained to find bodies and survivors. U.S. military C-130 cargo planes were among them, despite long-severed diplomatic relations and US President Bush's characterization of Iran as being part of an "axis of evil" with Iraq and North Korea.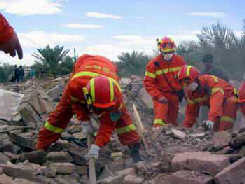 A Chinese rescue team searches for survivors in Bam Sunday. [Xinhua]

Interior Minister Lari said Iran accepted U.S. government help and not Israeli help because Tehran considers the United States a legitimate government, but opposes Israel for its actions against Palestinians in the West Bank and Gaza Strip. Israel "is a force of occupation," he said.

As for Americans, Lari said. "I believe it is possible that they have a humanitarian sensibility in such a dramatic situation."

Traffic clogged the roads leading in and out of Bam, 630 miles southeast of Tehran, the Iranian capital.

Survivors with any kind of motor vehicle loaded furniture and whatever they could salvage and headed for other cities. Incoming traffic brought relief supplies, volunteers and relatives desperate for news of their kin.

Mostafa Biderani and his wife, Zahra Nazari, wept in front of a destroyed police station in the center of Bam, slapping their faces and beating their chests in an Islamic expression of grief.

"I pulled my son out of the rubble this morning," said Biderani, who drove from Isfahan, 470 miles to the northwest. "But all my hopes were dashed when I saw the police station had collapsed. I pulled out my son with my bare hands."

The traditional sun-dried, mud-brick construction of the houses doomed many occupants, as it has for centuries in quake-prone Iran. Heavy roofs, often sealed with cement or plaster to keep out rain, sit atop mud-brick walls that have no support beams. When walls crumble, roofs smash down, leaving few air pockets and crushing or suffocating anyone inside. Friday's quake struck about 5:30 a.m. when most people were sleeping.

"In these conditions, we are not optimistic of finding anyone alive. Hopes are dwindling fast," said Barry Sessions of Britain's Rapid-UK rescue group, which did not find any survivors in 24 hours of searching.

"The earthquake reduced most of the buildings to something like talcum powder. Many of the casualties suffocated and there are few voids or gaps left in the buildings where we would normally find survivors."

His thoughts were echoed by other relief workers.

Luca Spoletini, spokesman for the Italian Civil Protection, said its teams found nothing but corpses after a day spent probing the rubble.

Describing a visit to Barazat, a town with a population of 20,000 a few miles outside Bam, Spoletini said, "There is nothing any more. Not one single house, not one single building stands upright. It is like the Apocalypse. I have never seen anything like that."

By Saturday night, enough tents had arrived to accommodate the thousands of homeless. There was even a bit of normalcy, with people complaining they had to share a tent with another family.

Looters were also out, grabbing food from warehouses and grocery shops. Police tried to control them by shooting in the air.

In addition to Italian and British teams, rescuers, supplies or pledges of aid arrived from Austria, Azerbaijan, Britain, Finland, Germany, Russia, Turkey and dozens of other nations.

The United States arranged an airlift of 150,000 pounds of food, water and medical supplies. Four military planes flew into the country from Kuwait.

"The reception was beyond expectations," said U.S. Air Force Master Sgt. Jeff Bohn, who was on the first plane. "The warmth that the Iranian military and civil aviation workers gave us was truly incredible."

An Iranian navy helicopter crashed 30 miles southwest of Bam on Sunday after delivering tents and blankets, the regional governor's office said. All three crewmen were killed, he said.

Bam was best known for its medieval citadel, considered the world's largest surviving mud fortress. Most of the fortress, including a massive square tower, crumbled like a sand castle when the quake hit.