Death toll from gas blowout jumps to 233
( 2003-12-29 08:17) (chinadaily.com.cn)
The death toll from a natural gas well blowout in southwest China climbed to 233 on Sunday as rescue workers began cleaning up a vast "death zone," the Xinhua news agency said.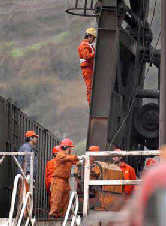 Members of an emergency squad team are engaged in reinforcement work for a gas well after sealing the ruptured well in Kaixian County, some 337 kilometers (210 miles) northeast of Chongqing, southwest China, Saturday, Dec. 27, 2003. [Xinhua]

Medical workers were disinfecting eight villages, testing drinking water and poisoned crops near the site of the leak, a gas field in Chongqing municipality, Zhang Mingkui, director of the Kaixian County Bureau of Environmental Protection, said.

About 42,000 people were evacuated after the blowout on Tuesday. Some began returning home over the weekend.

Villagers began to go back home Saturday, but locals whose houses lie within three miles of the leak were not allowed to return.

"I want to clean up my house and count my losses because we can't smell the fumes now," a farmer said.

The cloud of gas swept across a 10 square mile area on Tuesday, devastating villages and poisoning farms. More bodies were found in mountain villages on Sunday, pushing the death toll up by 35.

About 1,000 workers were clearing away almost 4,000 animals, including cattle, pigs, rabbits, ducks, chickens and dogs, killed by the gas well burst.

The Ministry of Civil Affairs has sent 10,000 quilts and 300 tons of food and medicine to the victims.

Workers poured hundreds of cubic meters of mud and cement into the 1,300-foot well in Kaixian county on Saturday, plugging a mix of natural gas and sulphurated hydrogen that caused acid burns to the eyes, skin and lungs of victims.

A total of 10,175 people were either hospitalized or treated and discharged. Nearly 80 people were in serious condition.

State-run China National Petroleum Corp, which operates the gas field and parent of listed oil major Petrochina, will pay compensation to villagers, state television quoted company vice president Su Shulin as saying.