No SARS symptoms for 42 contact cases
( 2003-12-29 08:11) (China Daily)
None of 42 people who had close contact with a new suspected case of severe acute respiratory syndrome (SARS) in Guangdong have developed a fever or related symptoms, officials said Sunday.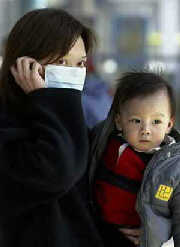 A woman wears a protective mask as she talks on a mobile phone while waiting for her relatives from Guangzhou at Hong Kong's train terminal December 28, 2003. Hong Kong stepped up health checks on travelers from Guangdong province after the government said a man in Guangzhou had been admitted to the hospital with symptoms of the deadly SARS disease. [Reuters]

All the people who were in contact with the victim are under quarantine now and expected to finish medical observation within a week.

Among them, 32 are reportedly medical workers.

The 32-year-old freelance television producer, surnamed Luo, with the suspected SARS infection is now in stable condition and is in isolation at Guangzhou No 8 People's Hospital, a SARS designation hospital in the Guangdong provincial capital.

"His condition is stable and his temperature is normal," the Ministry of Health said on its website www.moh.gov.cn.

A panel of experts determined Luo to be a highly suspected SARS patient on Friday after finding the SARS coronal virus in one of his lungs.

Experts from the Ministry of Health and Guangdong Province now are working to confirm whether the person does in fact have SARS, said Deng Haihua, a press official from the Ministry of Health.

Meanwhile, the ministry has asked the World Health Organization (WHO) to supply a laboratory expert to help verify the results of the tests done so far, and to help with further investigations, Roy Wadia, media spokesman of WHO Beijing office, said. The expert is expected to arrive in Beijing today.

The WHO has also recommended samples be sent overseas for international verification of the test results.

So far the test results have been confusing, with some positives and some negatives, hence the need for more testing and verification. The test results will be published in five to seven days, a local doctor from Guangdong said.

Luo who lives in Guangzhou's Panyu District began to have fever, headache and other symptoms on December 16.

He was diagnosed with pneumonia in Guangzhou No 1 Zhongshan Hospital, affiliated to Sun Yat-sen University on December 20 and was transferred to Guangzhou No 8 People's Hospital for isolation treatment on December 24.

If confirmed, Luo will be the world's first SARS patient infected with the fatal disease outside a laboratory since August.

It is not strange that a suspected SARS patient has surfaced now, said Gao Qiang, vice-minister of health, during a conference Sunay.

The timing coincides with the common rule of an epidemic.

Experts did not believe China would witness a large scale SARS outbreak this winter and spring, with the high-level public awareness and the strengthened surveillance and treatment system after the first outbreak earlier this year.

Country responds to suspected case

China quickly responded to the latest suspected SARS case in Guangdong Province.

The Guangdong Provincial Bureau of Public Health informed its Hong Kong and Macao counterparts of the case to warn them to raise their vigilance to prevent the disease from spreading in the southern Chinese region, said Wang Zhiqiong, deputy director general of the bureau, yesterday.

And health inspections in Luohu and other land border checkpoints between Guangdong Province, Hong Kong and Macao have been expanded, Wang said.

In Beijing, public health departments responded quickly to prevent the spread of the disease after the latest development.

Hospitals in Beijing were told to strengthen monitoring and examinations of fever cases, especially those from Guangdong, said Guo Jiyong, deputy director of the bureau.

Teams at all municipal entry-exit points, including railway stations and airports, were called up to strengthen temperature screening systems, especially for travellers from Guangzhou.

Anybody with temperature of over 38 degrees centigrade will be sent to government-designated hospitals as soon as possible, Guo said.

Many other areas of China, such as Shanghai and Southwest China's Sichuan Province, have also taken emergency measures to prevent possible epidemic.

Despite the suspected case, restaurants, shopping centres, bars, cinemas, and other entertainment venues continued to enjoy brisk business over the weekend in Guangzhou.

A bar operator surnamed Wang said her bar's business went up at least 20 per cent on Saturday night.

"There is nothing to be afraid of," Wang said.

Qiu Delin, manager of the Beijing-based Guorentang Medicine Shop said sales of face masks, disinfectors and traditional medicine that was believed to be effective in preventing SARS in May were usual.

"There have been no hot sales so far after a suspected SARS case was found in Guangzhou over the weekend," he said.

In another development, at all air, sea and road frontier passes, people coming in and out Viet Nam are being subjected to temperature examinations, and anyone with a body temperature above 38 degrees centigrade and flu symptoms will be quarantined, Xinhua reported yesterday.

Meanwhile, Singapore and Italy have also taken quarantine measures for Chinese travellers.