Attacks by Iraq rebels kill 13, wound 172
( 2003-12-28 10:44) (Agencies)
In the biggest rebel attack since Saddam Hussein's capture, suicide bombers and assailants with mortars and grenade launchers blasted coalition military bases and the governor's office in this southern city Saturday, killing 13 people and wounding at least 172.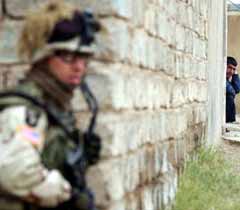 An Iraqi peers out onto the street as a U.S. Army soldier of 1st Battalion takes his position during a patrol in Tikrit Iraq, Saturday Dec. 27, 2003. [AP]

Karbala included six coalition soldiers - four Bulgarians and two Thais; six Iraqi police officers; and a civilian.

At least 172 people, many of them civilians caught in the chaos, were wounded in three nearly simultaneous assaults apparently designed to test the resolve of Washington's allies in the coalition governing Iraq. A Polish-led force is responsible for security around the holy Shiite city of Karbala.

Also Saturday, Iraq's U.S.-led administration put bounties of $1 million each on the heads of 12 remaining fugitives from the coalition's list of the 55 most-wanted Iraqis.

Administrators already are offering $10 million for information leading to the capture or death of the 13th remaining fugitive - Izzat Ibrahim al-Douri, a senior official in the former regime and a Saddam Hussein confidant who now is the most wanted man in Iraq.

Insurgents also may have targeted this city 70 miles south of Baghdad on the assumption that military targets there would be more vulnerable to attack. The most intense rebel activity is in Sunni areas west and north of Baghdad, where combat-tested American troops have more experience fending off suicide bombers and other assailants.

One of four suicide bombers in Karbala gained entry to a Bulgarian camp, cutting through roadblocks in a car and destroying a building where the headquarters of the unit was located, Bulgarian Deputy Defense Minister Ilko Dimitrov said in Sofia.

Four Bulgarian soldiers were killed and 27 others were wounded, Dimitrov said.

"We expected these attacks because Karbala was suspiciously peaceful in the recent time," said Nikola Kolev, the Bulgarian army chief of staff. "We improved security measures every day but terrorists change their tactics all the time."

Bulgaria, a staunch supporter of the U.S. military campaign in Iraq, has a 485-member light infantry battalion stationed under Polish command.

A car bomb also killed two Thai soldiers on guard duty when the vehicle rammed into the walls of their camp, a Thai spokesman said in Bangkok. Thailand sent 422 soldiers to Iraq in September to provide medical aid and help rebuild war-shattered infrastructure.

The Thais were confident enough about their security that they planned to send 200 Thai civilians to visit their troops. A Thai newspaper, The Nation, said the tourists would travel with senior military officials in February. In the wake of the attacks, it was unclear whether the plan would go ahead.

President Bush called the prime ministers of Bulgaria and Thailand to express his condolences for the soldiers killed in Saturday's attacks, White House spokesman Jimmy Orr. He did not have further details of the calls.

Bush placed the calls from his ranch in Crawford, Texas.

Six Iraqi police officers and an Iraqi woman living next to one of the military bases were killed in Karbala, said Ali al-Arzawi, deputy director of the General Hospital. Some 135 Iraqi civilians and police officers also were wounded there, many of them slightly, he said.

In Baghdad, U.S. Army Brig. Gen. Mark Kimmitt said 37 coalition soldiers, including five Americans, were wounded.

"It was a coordinated, massive attack planned on a big scale and intended to do much harm," Polish Maj. Gen. Andrzej Tyszkiewicz said from his headquarters at Camp Babylon, east of Karbala.

Poland commands a multinational force of 9,500 soldiers, including 2,400 Poles.

After the attacks, U.S. troops sealed off the debris-strewn area around the governor's office. Three destroyed cars lay in the street. At the hospital, crying people crowded the corridors, searching for missing family members.

"I was in the front office when I heard a loud explosion," Wahab Abdel Hussain, a 45-year-old desk officer at the governor's office, said from his hospital bed, blood running down his face.

"Shattered glass hit me in the face and then I passed out. I woke up in the hospital."

Mohamed Jassim, 50, said he was about to enter the governor's office to try to settle a land dispute when a car bomb exploded, injuring his hand.

"I was knocked out on the floor by the explosion," he said.

He blamed supporters of Saddam, whose arrest was a major victory for U.S. troops, though American commanders believe the insurgency is a loose-knit organization without a rigid command and control structure.

Despite the attacks in Karbala, where Saddam conducted a bloody crackdown on Shiite opponents in 1991, U.S. military officials said the number of rebel assaults in Iraq had decreased. Kimmitt said attacks were down from about 50 a day in mid-September to an average of about 15 a day, spiking to 18 on Christmas Day.

Also Saturday, rebels detonated homemade bombs that set aflame a fuel depot and injured six American soldiers. The attacks occurred in Baghdad and in Habaniyah, west of the capital.

In the northern city of Mosul on Saturday, witnesses said rebels fired on a U.S. convoy from a car but then were pursued by the American soldiers, who killed four attackers. The U.S. military did not confirm the report.

Also in Mosul, an Iraqi lawyer working on a project funded by the U.S.-led coalition was assassinated Saturday. Adil Hadidi was shot dead as he walked out of his house, according to a neighbor, Firas Kamal.

Insurgents often have targeted Iraqi police, translators and others cooperating with the coalition.