Iran fears quake toll could hit 40,000
( 2003-12-28 08:31) (Agencies)
Relatives and rescuers used everything from bare hands to bulldozers Saturday to retrieve victims of a powerful earthquake that crumbled vast swaths of this city of mud-brick buildings into powder and frost-chilled rubble, killing thousands of people.

An Iranian woman cries amid the ruins of her house in the devastated town of Bam, south-eastern Iran, December 28, 2003. International rescue teams were flying into Iran on Saturday to join a frantic search for survivors from an earthquake that devastated the ancient Silk Road city of Bam, killing more than 20,000 people. [Reuters]

The destruction was so all-encompassing that a reliable death toll in the city of 80,000 was still unavailable. Most people were asleep when the earthquake, which the U.S. Geological Survey measured at magnitude 6.6, struck at 5:28 a.m. Friday. The Interior Ministry estimated the death toll at 20,000 but officials in the region said it could be double that amount.

"An unbelievable human disaster has occurred," said Akbar Alavi, the governor Kerman, the provincial capital. "As more bodies are pulled out, we fear that the death toll may reach as high as 40,000."

But other officials said later Saturday the number of dead would be lower.

"The figures are not correct; no precise statistics on the number of casualties are available yet but it seems that number of the victims is less," Deputy Governor Mohammad Farshad told the official Islamic Republic News Agency.

The Interior Ministry estimated the number of injured at 30,000.

One American was killed and another injured as they visited the city's 2,000-year-old citadel, a U.S. State Department official said in Washington. The injured American was hospitalized in Tehran, State Department spokesman Lou Fintor said. The victims' names were not released.

Bam, in southeast Iran about 630 miles from Tehran, suffered such extreme damage because most of the buildings are made of unreinforced mud brick and the quake was centered only about 10 miles outside the city, said Harley Benz, a USGS seismologist.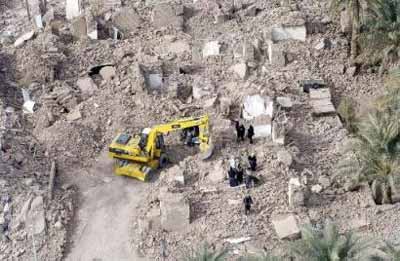 Destroyed buildings are seen in this aerial image in Bam city. [AP]
"The communities in this part of Iran are really not resilient to earthquakes," said Benz, head of the National Earthquake Information Center in Golden, Colo. "It's very sad and unfortunate."
Aftershocks registered as high as 5.3, according to the geophysics institute of Tehran University.
Searchers carried the injured in their arms, on stretchers and in the backs of trucks, seeking help outside Bam's ruined hospitals or at the airport while awaiting evacuation to Kerman, the provincial capital about 120 miles away, or other cities.
A provincial government official, Saeed Iranmanesh, told The Associated Press that 3,000 bodies have been recovered and buried, and more than 9,000 of the injured were sent to hospitals throughout the country.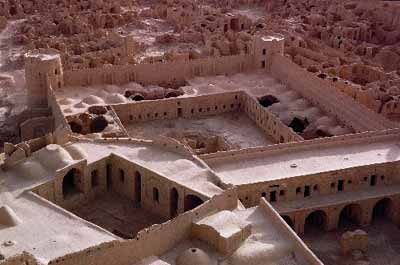 The city of Bam before the earthquake. [Xinhua]
About 150 people, including an infant, were pulled alive from the rubble, Revolutionary Guards officer Masoud Amiri said. The baby was buried more than 24 hours but was listed in stable condition at a hospital, he said.
By late afternoon, a 1 1/2-mile line of vehicles waited to enter Bam as Iranians rushed to find relatives or to bring emergency supplies.
Iran opened its airspace to all planes carrying emergency supplies and waived visa requirements for foreign relief personnel.
"The disaster is far too huge for us to meet all of our needs," President Mohammad Khatami said as he declared three days of mourning.
Governments and relief organizations mobilized around the globe, with rescue workers, search dogs and supplies arriving from a long list of countries.
The United States, which has no diplomatic relations with Iran, will send 150,000 pounds of medical supplies and dispatch teams of about 200 search-and-rescue and medical experts from Fairfax County, Va.; Los Angeles; and Boston, U.S. officials said.
"We greatly welcome any assistance from the United States. We welcome assistance from all countries except Israel," Alavi said.
Israel and Iran are adversaries.
The U.S. airlift could help thaw relations with Iran, which President Bush branded part of an "axis of evil" last year with prewar Iraq and North Korea.
The leader of an Iranian relief team, Ahmad Najafi, said he also feared the toll could reach 40,000. On one street alone, 200 bodies were extracted from the rubble in a single hour, he said.
In another part of Bam, a gray-bearded man in his 50s, wearing the white turban common to rural villages in this southeastern corner of Iran, watched with resignation as four men dug with their bare hands and a single shovel.
What once was his home was a flattened pile of rubble and dust. He pointed to where the bedrooms should have been, seemingly resigned that none of his three teenage children or his wife would be found alive.
He fainted as he spotted a slender hand protruding from a red pajama sleeve in the debris.
Behind him, the body of a girl in her teens was excavated and quickly covered with a blanket. Then the bodies of his sons and a woman in her 40s were found.
No one was alive.
In another neighborhood, a man interrupted Interior Minister Abdolvahed Mousavi Lari as he spoke to reporters.
"My father is under the rubble," the man said, tears rolling down his face. "I've been asking for help since yesterday, but nobody has come to help me. Please help me. I want my father alive."
Lari tried to calm the man and asked an aide to help him.
"There is not a standing building in the city. Bam has turned into a wasteland," the minister said.
Thousands of survivors prepared to spend a second night outdoors, sleeping in tents or under blankets or whatever they could find as temperatures dropped to freezing.
The earthquake collapsed the walls of the local prison, allowing all 800 inmates to escape, guard Vahid Masoumpour said.
The quake destroyed most of Bam's citadel - a medieval fortress that is the city's best-known structure. The tallest section, including a distinctive square tower, crumbled like a sand castle.
The U.N. cultural agency, UNESCO, considered declaring the citadel a protected World Heritage Site.
Some of the citadel's walls were still standing Saturday, but they were damaged.
"My grief is twofold," said Reza Husseini, a 25-year-old archaeology student, as tears streaked through the dust that covered his hair and his bruised face. "I've lost two members of my family, and I've lost my history, my citadel."
Iran has a history of devastating earthquakes, including one of magnitude 7.3 that killed about 50,000 people in northwest Iran in 1990.