Anita Mui no longer HKPAG president
( 2003-12-26 11:17) (Shenzhen Daily)
Anita Mui, famed Hong Kong pop diva who is suffering from cervical cancer, will not resume her role as the president of the Hong Kong Performing Artists Guild (HKPAG) due to her illness.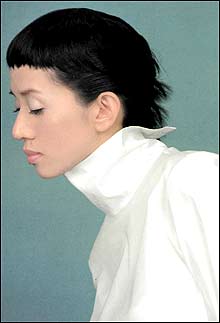 The news was announced by the HKPAG at its sixth presidential election Monday. More than 100 entertainers attended the election, at which Mui was absent. She asked a friend to vote instead.
¡°Mui will not be renamed,¡± said a HKPAG spokesman. This broke a guild tradition which routinely had its president serving two successive terms.
Also, the scheduled celebration for the 10th anniversary of HKPAG will be postponed because of Mui¡¯s illness.
The election results were not disclosed but the next HKPAG president was elected from among more than 10 nominees including Jacky Cheung, Eric Tsang, Anthony Wong and Lisa Wong.
Mui, who disclosed her illness in September, has been absent from her presidential duties since June and hasn¡¯t appeared publicly since she returned from Japan earlier this month.
She is reportedly now suffering from serious liver problems due to the side effects of chemotherapy and was taken to a hospital Monday to clean her liver.
However Mui¡¯s agent denied the rumor.
¡°Mui decided to stop her work temporarily in order to rest to recuperate her health. She went to the hospital only for an examination and her health remains stable,¡± the agent said.