Investigation team reaches Chongqing gas blowout spot
( 2003-12-25 21:03) (chinadaily)
The investigation team of the State Administration of Work Safety has arrived at the blowout spot of the Chuandongbei gas field in southwest China's Chongqing municipality, Xinhua News Agency reported.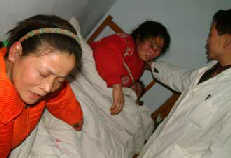 Survivors of the gas blowout receive treatment at a makeshift hospital in Chongqing municipality's Kaixian county. [newsphoto.com.cn]

At least 191 people have been killed and scores of others poisoned in the devastating blowout at the natural gas field.

The investigation team had no sooner went to the blowout spot and started the investigation than arrived at Kaixian County, 337 km to the northeast of southwest China's Chongqing Municipality.

The blowout took place at 10:00 p.m., Tuesday, when a well burst suddenly and released a high concentration of natural gas and sulfurated hydrogen.

Residents had been evacuated within five kilometres (three miles) of the disaster site, the report said.

The Kaixian County People's Hospital, the county's biggest, was treating between 200 and 300 people with poisoning symptoms, said a hospital worker surnamed Zhang.

"There are farmers and miners, old and young, men and women," he said. "Some died after they arrived here."

He said other hospitals in the region had also received large numbers of patients.

Another hospital worker said: "We are very busy. There are patients everywhere. We haven't counted the casualties."

Some had been poisoned and others had suffered chemical burns, he said, declining to give other details.

Meanwhile, Chinese leaders Thursday called for unreserved efforts in searching and rescuing the victims.

President Hu Jintao, Premier Wen Jiabao and Vice-Premier Huang Ju said in their instructions that relevant departments should go all out to rescue victims, prevent poisonous gas from spreading further and reduce casualty.

The leaders also called for effective efforts in evacuating local residents and making proper arrangements for their life.

A work team headed by State Councilor Hua Jianmin has rushed to the site Thursday afternoon.

The field belongs to China National Petroleum Corp. (CNPC), parent of oil major PetroChina.

Chongqing and the neighboring province of Sichuan are among China's major natural gas producing areas.

In August, PetroChina started construction of a US$400 million pipeline to pump natural gas from Chongqing to central China.