China suspends US beef imports
( 2003-12-25 15:48) (Chinadaily.com.cn & Agencies)
China has decided to suspend U.S. beef imports after the discovery of the first U.S. case of the deadly mad cow disease, authorities said on Thursday.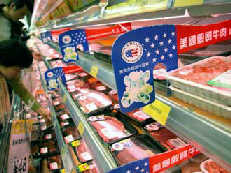 Chinese customers look over beef products at a supermarket in Guangzhou, South China's Guangdong Province, December 24, 2003. [newsphoto.com.cn]

"China will temporarily ban imports of U.S. cattle and cow products. This does not include milk, milk products, leather and gelatin," the Agriculture Ministry and quarantine bureau said in a joint statement in Shanghai.

The statement urged the border inspection and animal quarantine departments at all levels to take strict inspection measures according to related laws and regulations to prevent mad cow disease spreading into China.

It also asks the animal quarantine departments to take immediate measures to intensify monitoring of cattle (including embryos) imported from the United States in recent years and their offspring (including crossbred calves).

These departments are required to report without delay any abnormal case to the ministry and administration once it is found; and the sample of any suspected case must be sent to designated laboratories of the ministry or administration for a definite confirmation.

The ban took effect Thursday and will last until the US ``takes measures to assuage concerns about the safety of its beef and beef products,'' said an official at the quarantine bureau of the Agriculture Ministry.

Total U.S. beef imports to China are estimated to rise by 11 percent to 30,000 tonnes in 2004, according to U.S. figures. About 10 percent of U.S. beef is exported.

Japan, Mexico and South Korea, the top buyers of U.S. beef, halted imports after the case was disclosed on Tuesday in a huge blow for the US$27 billion U.S. cattle industry.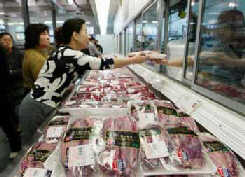 A shopper receives a package of U.S. beef at a supermarket in Taipei on December 25, 2003. Taiwan suspended imports of U.S. beef and its by-products on Wednesday. [Reuters]

Other regions, including Singapore, Malaysia, Australia, China's Hong Kong and Taiwan, Russia, Ukraine and South Africa, have followed suit. Canada imposed a partial ban.

In Tokyo,Japanese stocks inched lower. Analysts placed the blame on disappointing U.S. economic data and the case of mad cow disease.

"Weak economic data, worries about possible terror attacks and mad cow. These are negative factors holding the market back."said Tatsuyuki Kawasaki, director of equities trading at Kaneyama Securities.

The dollar was stuck near record lows versus the euro in Tokyo. It was sitting at US$1.24 per euro.

"The euro's jump was largely due to the mad cow scare and the disappointing figures coming out of the U.S., but it also had to do with geopolitical risks as well," said Junya Tanase, global markets officer at JP Morgan Chase.

In Washington state, public health investigators combed a tiny town to pinpoint the cause of the potentially fatal disease after a single 4-year-old Holstein cow tested positive.

The animal has been traced to a dairy farm near the town of Mabton.

An initial estimate by Purdue University put the loss to the beef industry at US$2 billion for next year due to lost exports and lower cattle prices.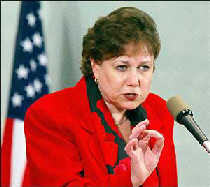 US Agriculture Secretary Ann Veneman announces the country's first suspected case of mad cow disease which could prove an economic bombshell for the US beef industry[Agencies]

U.S. Agriculture Secretary Ann Veneman tried to calm consumer and market fears, declaring the food supply to be safe and vowing to serve beef to her family at Christmas dinner.

U.S. Investors sold stock in chains that specialize in hamburgers, like McDonald's, Burger King and Wendy's, and cattle futures fell by the limit allowed by the exchange.

An outbreak of the disease in Europe more than a decade ago resulted in 137 human deaths, mostly in Britain, and the destruction of some 3.7 million cattle in that country.

Verns Moses Lake Meats, a small slaughter company in Washington state, recalled more than 10,000 pounds (4,500 kg) of raw beef due to concern it may contain tainted meat.

However, much of the beef linked to the sick cow may have already been consumed, officials said.

A tissue sample from the "downer" cow -- one that is too sick to walk -- was obtained on Dec. 9 and tested positive for Bovine Spongiform Encephalopathy, or BSE, the medical name for mad cow disease.

BSE is not found in meat like steaks and roasts and the U.S. Food and Drug Administration said there was no risk of BSE being passed through the cow's milk.

Other USDA officials said it took two weeks for a lab in Ames, Iowa to complete tests on a brain sample from the diseased cow because of a backlog at the facility, which last year tested over 20,000 cattle for mad cow disease.

When the positive result came back, a tissue sample was flown by U.S. military jet to an animal laboratory in Britain for additional confirmation. Those results will not be ready for three to five days, officials said.

More than 4,000 dairy cows were quarantined in Mabton, where the dairy industry is the mainstay of the local economy.

Mad cow disease had never been found in the United States. Scientists believe humans can be infected with a similar disease by eating meat contaminated with diseased brain or spinal column material.

Scientists believe people can contract a form of Creutzfeldt-Jakob Disease known as vCJD from eating beef products infected by BSE, such as diseased brain or spinal column material.