China suspends US beef imports
( 2003-12-25 11:01) (Agencies)
China has announced Thursday the decision to suspended US beef imports after the United States reported its first suspected case of mad cow disease.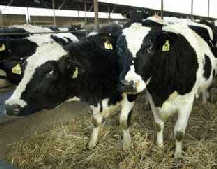 Healthy Holstein cows at a farm in central Washington, December, 24, 2003. The first reported case of mad cow disease in the U.S. was reported in Mabton, Washington from a Holstein dairy cow. [Reuters]
The ban took effect Thursday and will last until the US ``takes measures to assuage concerns about the safety of its beef and beef products,'' said an official at the quarantine bureau of China's Ministry of Agriculture. He gave only his family name, Huang.
Another official, who declined to state his name, from the food products safety division of China's General Administration of Quality Supervision, Inspection and Quarantine (AQSIQ), said Thursday:"Today, we have issued notices to all ports to ban the imports of beef products from the United States."
Another official from the Administration confirmed the decision.
"From today, beef products from the United States have been banned," said the official from the animals products division.
"We will also step up inspections of individuals bringing in the products."
The action follows the first suspected case of bovine spongiform encephalopathy (BSE), or mad cow disease, in a single cow in the US Pacific state of Washington. The brain-wasting disease devastated the British agriculture industry in the late 1990s.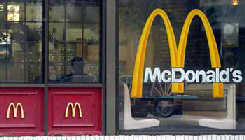 Two unidentified people eat at a McDonald's restaurant on Chicago's north side, December 24, 2003. The company's stock fell on word of the first case of mad cow disease in the U.S.[Reuters]

Total US beef imports to China are estimated to rise by 11 percent to 30,000 tonnes in 2004, according to US figures.

China's Commerce Ministry statistics show meat products imported from the US last year totalled US$532 million. From January to July this year, China imported US$316 million of meat products from the United States.

Japan and South Korea, the top two buyers of US beef, swiftly halted imports after the case was disclosed on Tuesday, in a huge blow for the US$27 billion US cattle industry.

Other countries and regions, including Singapore, Malaysia, China's Hong Kong and Taiwan, Russia, Ukraine and South Africa, have followed suit.

Until now, there has been no US reported case of mad cow disease. Scientists say humans can be infected by eating meat contaminated with diseased brain or spinal column material.