Bomb kills 3 GIs; Baghdad hotel targeted
( 2003-12-25 08:56) (Agencies)
A roadside bomb exploded north of Baghdad on Wednesday, killing three U.S. soldiers in the deadliest attack on Americans since Saddam Hussein's capture. Hours later, guerrillas fired a mortar shell that hit an upper floor of a Baghdad hotel filled with Western contractors and journalists.
A US soldier from the Ist Armoured Division Artillery dressed up as Santa Claus arrives at a Catholic orphanage in Azamiya, north of Baghdad, to distribute donated toys. [AFP]


The strike on the Ishtar Sheraton Hotel injured no one because the 60mm direct-lay mortar shell hit a barrier, or outer wall, on the heavily barricaded 19-story hotel, which rises from the east bank of the Tigris River, said Capt. Jason Beck of the U.S. Army's 1st Armored Division.

Beck told The Associated Press that Iraqi security guarding the hotel immediately fired at the guerrillas, who fled. Early Thursday, distant explosions were heard in central Baghdad as the U.S. military bombarded suspected rebel positions.

The hotel attack, which rattled windows for blocks, followed a string of separate bombings that killed six civilians and a suicide bomber in addition to the three American soldiers.

Until Wednesday, U.S. military commanders had said the number of daily rebel attacks were slowing in recent weeks ! even as they braced for increased violence around the Christmas holiday.

The day's fighting began before dawn, when the 1st Armored Division unleashed an artillery barrage on three rebel targets in southwest Baghdad, aided by Air Force jet fighters and gunships.

Elsewhere, U.S. troops continued their stepped-up raids on homes in several towns that led to the arrest of a Sunni sheik said to be close to the most wanted man in Iraq. Troops rounded up dozens of guerrilla suspects in strongholds of U.S. resistance, saying they were capitalizing on intelligence from interrogations and documents seized in the Dec. 13 capture of Saddam, the former dictator.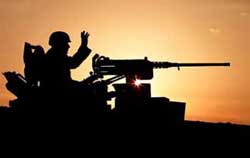 A U.S. soldier waves from his tank at a checkpoint at sunset on Christmas Eve in a military camp outside the town of Baquba in central Iraq, Dec. 24, 2003. [Reuters]

At 9 a.m. Wednesday, three U.S. soldiers were killed by a roadside bomb that hit a military convoy near Samarra, a town north of Baghdad where insurgents have often launched attacks.

In northern Iraq, a suicide bomber detonated an explosives-packed car in front of the Kurdish Interior Ministry in the city of Irbil, near Kirkuk, U.S. Army Brig. Gen. Mark Kimmitt said in Baghdad.

Four civilians were killed ! two guards, a 13-year-old girl and a passing taxi driver ! along with the bomber, said Interior Minister Karim Sinjar. He said 101 people were injured in the 11 a.m. explosion, two seriously.

Kimmitt said the blast brought down the protective wall in front of the building.

Irbil houses the Kurdish parliament. Under U.S.-led aerial protection, Iraqi Kurds, ethnically distinct from the majority Arabs, have ruled a Switzerland-sized swath of northern Iraq since the end of the Gulf War more than a decade ago.

Also Wednesday, two people were killed and two injured ! all minibus passengers ! when a roadside bomb detonated in a Baghdad traffic tunnel, hospital officials said. The bomb exploded in the traffic-packed Shurta tunnel around noon.

Improvised roadside bombs have become the favored rebel tactic in recent months. The cleverly concealed bombs have killed numerous American troops.

Last month, the Sheraton was hit in a series of rocket attacks launched from donkey carts that also struck the Palestine Hotel, across the street from the Sheraton, and the Oil Ministry a couple of miles away. There were no confirmed deaths in those strikes. The Al-Rasheed Hotel, on the opposite bank of the Tigris, was hit in a similar attack in October that killed a U.S. colonel and wounded 18 people.

Kimmitt said the overnight U.S. bombardment, which residents heard until about 2 a.m., was the launch of Operation Iron Grip, targeting an area that had been used to fire mortars at U.S. troops. The bombardment consisted of "targeted attacks, very precise," Kimmitt said.

He also indicated that the operation was a show of force in the military's latest offensive against Baghdad's guerrillas.

In Washington, Gen. Richard Myers, chairman of the Joint Chiefs of Staff, said Tuesday that information resulting from Saddam's capture led to arrests of 50 former regime leaders the day before.

One of the latest targets was Ghazi Hanash, leader of al-Ta'ee tribe based around the northern city of Mosul. He is said to be close to former Vice President Izzat Ibrahim al-Douri, who U.S. commanders suspect is an organizer of the anti-American resistance.

Al-Douri ! No. 6 on the U.S. list of the 55 most-wanted Iraqis ! is the most senior official of 13 who have escaped custody.

Hanash was arrested Tuesday at his apartment in Baghdad along with a son and two aides, a cousin, Ghassan Hamadi, said from the Sheik's residence in Mosul.